You might not think book reviews are important, but I wanted to take a few minutes today to let you know why us authors love them and explain all the ways they help us (I promise, it isn't just about making us feel good!).
Don't forget to sign up to my mailing list for your free short story!
1. Okay, so part of it is about making us feel good.
Creating something means pouring your heart and soul into it and when we put it out into the world, we want people to like it as much as we do because it feels like a representation of us. We know not everyone likes the same things, but it can still be hard not to take criticism personally. No one wants to be told their baby is ugly! But it is part and parcel of the job, and we accept that.
Nothing makes us happier than seeing a reader has enjoyed one of our books. It honestly still makes my day to think that someone has chosen to read something I've written and spend time with some of my characters. It's the greatest gift ever.
2. Reviews help us get promos!
A lot of people don't know this, but as well has supposedly helping with Amazon's pesky algorithms (who knows if that's true!) they also help us secure promo's like Kindle Monthly Deals. The more reviews we have the more likely we are to get them. So whenever you leave a review you're really helping us to find new readers.
3. They make our publishers happy
Reviews also let our publishers know that readers actually like our stuff! When you're just starting out and probably not selling a tremendous amount of books, publishers will look at reviews and this can help in them deciding to give us another contract or not. You're literally helping an author keep their job!
4. They don't have to be big or small – every little helps!
I know it's Tesco's catchphrase, but it is quite apt here! Reviews don't have to be enormous, just a line or two, even a rating, is more than sufficient and it really helps us to find new readers. They're more likely to take a chance on an author they've never heard of they can see what other people have thought of that book.
Finally, I'd really like to say thank you to every single person who's read and reviewed one of my books. Even if you didn't love it, I'm so grateful that you chose to spend time with my characters and take a chance on me. And for those people who have said things like 'my new favourite author' or that my books are 'must-reads' for you, your kind words never fail to bring a tear to my eye and fill my heart with love. If it wasn't for you, I wouldn't be able to keep doing what I'm doing and for that I am immeasurably grateful every single day. Thank you, thank you, thank you!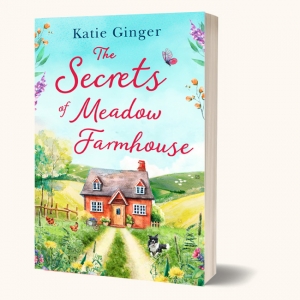 The Secrets of Meadow Farmhouse – my latest read is out now!
Amelia loves her life in Paris. But with the surprise inheritance of her childhood home, she has no choice but to return to the small village of Meadowbank to restore her great-aunt's old farmhouse. However, returning to Meadowbank means she has to confront her past, including old flame Adam, the one thing she regrets leaving behind.
When Amelia discovers a locket hidden in the farmhouse, containing the picture of a mysterious World War Two soldier, she starts to uncover the secrets of her great-aunt's past.
With Adam on hand to help restore the farmhouse, she's shocked by his generosity after so many years apart. As her feelings for her first love reignite, Amelia is suddenly confused as to where she truly belongs.
Can Amelia finally find where her heart truly calls home?
And if you sign up to my mailing list you'll get a free short story as well as all the backstage gossip!