Welcome to Annabel French!
This is a new name under which I'll be writing escapist romantic fiction set in dreamy locations!
The first book Summer at the Chateau will be published in June 2023 with two more exciting books to follow. What do you think of this absolutely gorgeous cover?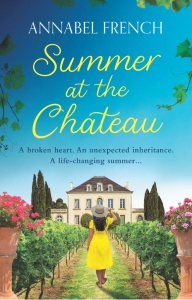 and here's the blurb:
A newly single girl. A tall, dark and handsome stranger. A chateau that keeps bringing them together. What could go wrong?
When Lizzie Summers is jilted at the altar, she's left completely heartbroken. But then she receives news that she has inherited a beautiful chateau in Provence, and it seems like the perfect escape.
Upon arrival, she discovers she is now the proud owner of . . . a crumbling ruin. A decrepit chateau – with nothing but dust and a goat for company.
Intending to head straight back to the airport, Lizzie instead gets caught in a freakish summer storm and finds herself trudging through a vineyard for help. Bedraggled and furious, she enlists the help of her nearest neighbour, the enchanting Luc. Perhaps she should stay and mend the chateau – and her broken heart – after all…?
Fancy a trip to Provence? Summer at the Chateau is available to pre-order now!
UK ebook: https://amzn.to/3Hd9XF1
US ebook: https://amzn.to/3XWXn3f
CA ebook: https://amzn.to/3HyL6N9
AU: ebook https://amzn.to/406fHZB