Hi and welcome to the books I've written under my real name…Katie Ginger!
If you love cosy, slow-burn romances set in fictional coastal towns or wonderful rural communities, then you've come to the right place!
Meadowbank Series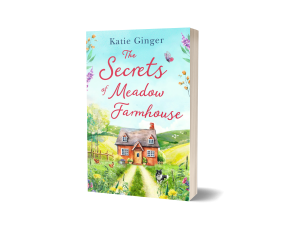 Amelia loves her life in Paris. But with the surprise inheritance of her childhood home, she has no choice but to return to the small village of Meadowbank to restore her great-aunt's old farmhouse.
However returning to Meadowbank means she has to confront her past, including old flame Adam, the one thing she regrets leaving behind.
When Amelia discovers a locket hidden in the farmhouse, containing the picture of a mysterious World War Two soldier, she starts to uncover the secrets of her great-aunt's past.
With Adam on hand to help restore the farmhouse, she's shocked by his generosity after so many years apart.
As her feelings for her first love reignite, Amelia is suddenly confused as to where she truly belongs.
Can Amelia finally find where her heart truly calls home?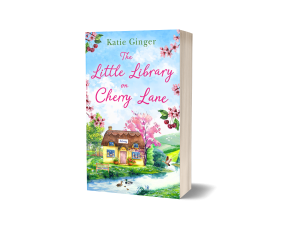 Elsie Martin may lead a quiet life, but working in her beloved local library is enough to make her happy. After all, books have always been her armour against the world. So when the library is threatened with closure to make way for a new housing development, Elsie knows it has to be saved – and that, despite being painfully shy, she needs to lead the campaign to save it.
Jacob Yardley thinks he's doing the right thing by building a new affordable housing development. Why shouldn't local people be able to buy a house in the place they grew up? Having to leave his own small hometown broke his heart. Plus, people don't really use libraries anymore, do they?
As Elsie and Jacob clash over the future of the library, sparks begin to fly. Jacob is falling back in love with books and libraries – could he possibly be falling for her too? And will Elsie be able to save the library that means so much to her?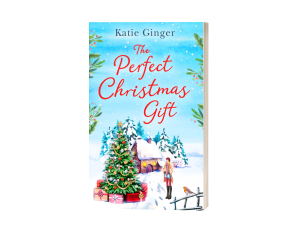 Can neighbours become more than just good friends this Christmas?
Bella Moore is excitedly counting down the days to Christmas. That is until she arrives home one evening to find her boyfriend leaving her for another woman. Completely heartbroken, Bella is left wondering if Christmas can still be the same this year.
Next door, Bella's neighbour Nick is facing his first Christmas as a single dad and doubting whether he can make it the magical time his son Freddie deserves.
Determined to fix both Christmas and their broken hearts, Bella comes up with an idea: a Christmas giving tree for the whole village, where the community can unite and secretly give each other the Christmas presents they truly need.
As Bella becomes chief elf, taking donations and delivering gifts with much-needed help from Nick and Freddie, the two neighbours grow closer and start seeing each other in a whole new light.
But when Nick's estranged wife returns just before Christmas, is their budding romance over before it's begun? Or will love be Nick and Bella's perfect gift this Christmas?
Swallowtail Bay Series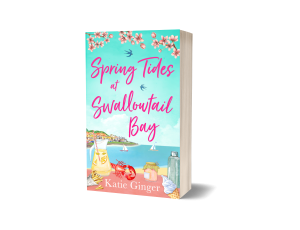 In Swallowtail Bay the birds are singing, the sun is shining and the locals are welcoming – but Stella's new beginning might be over before it's begun…
Licking her wounds from her divorce, Stella impulsively buys a gift shop and two holiday lets in glorious Swallowtail Bay, hoping for a fresh start with her King Charles Spaniel Frank.
When the neighbours meet her with a warm welcome, Stella knows she's found the new home she was looking for. Even gorgeous but grumpy local Miles can't take the shine off things. But then her ex-husband announces he's getting married again, and someone in the village starts gossiping about Stella…
Is Stella's dream over already? Or, with her new friends behind her, can Stella fight back and save her new life – and find the happy ever after she's been waiting for?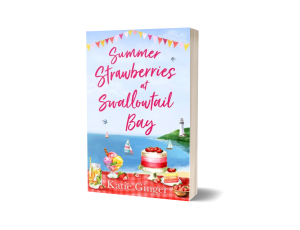 Hetty Colman loves her life in the cosy seaside town of Swallowtail Bay, organising children's birthdays, anniversaries and retirement parties. But after her recent break up from long-term boyfriend Ben, she's been searching for something new.
So, when Hetty overhears locals wondering how to return the old strawberry festival to its former glory, she jumps at the chance to relaunch it. There are just two problems – she only has four weeks to organise it and absolutely nowhere to host it!
When Hetty manages to convince the aloof, yet extremely handsome, John Thornhill to use the grounds of his rundown manor, things start to look up. But as Hetty and John grow closer and Ben tries to win back her affections, can Hetty make the festival and her love life run smoothly at the same time?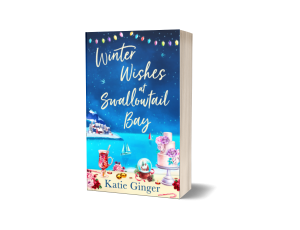 Grab your cosiest jumper and escape to the beautiful Swallowtail Bay!
Christmas and romance are in the air and Nell is obsessed! She can't stop watching her favourite Christmas romcoms and dreaming of the day when she meets her own romantic hero, especially as she is hosting the first ever wedding at her small hotel, Holly Lodge.
Nell's best friend, Tom, has been in love with her ever since they met. But Nell has never seen him that way, and he's always kept his feelings a secret in case it ruins their friendship.
After the opening of the glamorous Langdon Mansion Hotel in the bay, Nell's hotel is struggling for survival and she must fight, with Tom's help, to keep Holly Lodge open. Can the magic of Christmas help two old friends save Holly Lodge and open Nell's eyes to a love that was always there the whole time?
Snowflakes at Misteltoe Cottage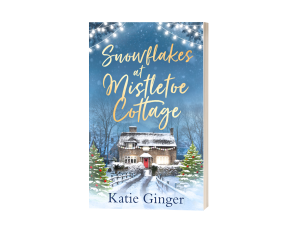 On a grey, London day, Esme's world crumbles around her when she loses her glitzy job on a top TV programme, her gorgeous, city-slicker boyfriend and her stunning apartment, all in one fell swoop just before Christmas.
Esme is forced suddenly to move back to her sleepy hometown of Sandchester, and despite the snow blanketing the roof and the fairy lights that twinkle in her rustic little cottage, everything is looking bleak. That is until she reconnects with an old crush and finds herself unexpectedly getting swept away.
But Joe, handsome and charming as he is, is not all he seems. Esme soon realises that he has a tragic past which he just might not be able to overcome…
Surrounded by her loving, if harebrained, family and with the support of her hilarious friends, Esme is determined to have a go at forging her own path, even if it all comes to nothing. But one question still lingers in her mind: will she find someone to kiss under the mistletoe this Christmas?
The Theatre Series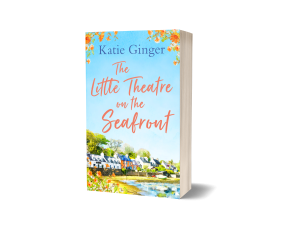 *Shortlisted for the Katie Fforde Debut Romantic Novel Award 2019!*
When Lottie's Gran dies she leaves one last request; save Greenley Theatre.
Faced with a decaying building, a mayor who most definitely isn't on board with the project and a group of actors who just can't get along, Lottie has her hands full, but with best friend Sid by her side she knows she can do it somehow.
But the arrival of Jeremy, a hotshot London developer who sweeps Lottie off her feet, complicates things. Suddenly Sid gets a new girlfriend, the Greenley Players fall apart, and that crumbling building? Well it crumbles a whole lot more. With no one to turn to, Lottie has to find the courage to save the day.
Will Lottie be able to save the theatre and also follow her heart?
In the little town of Greenley-on-Sea, summer has arrived. The turquoise waters of the sea sparkle in the sunlight, and along the beach's promenade holiday-makers spill from ice-cream parlours and vintage shops.
For Sarah, summer brings the chance for a fresh start. As well as playing Miranda in the Greenley Players' production of The Tempest (where she'll get to spend loads of time with her best friends Lottie and Sid) she finally feels ready to find love again after surviving heartbreak. Could her handsome colleague Dr Finn Macdonald be the very man she's looking for?
Famous actor Nate finds himself hiding out in Greenley whilst a potentially career-ruining scandal blows over. But when the Greenley Players get wind of his arrival, they draft him in to help out with their performance – and Nate certainly didn't bank on his instant connection with the beautiful woman in the lead role…
As the temperature rises and the Players' performance draws closer, can Sarah and Nate overcome their pasts and find love again?