I LOVE writing festive fiction! It's one of my favourite times of the year to set a book (especially if we see a little touch of autumn first!). There really is nothing better than knowing you're making a reader feel all that Christmas magic from smelling the mince pies and cinnamon swirls to seeing the glittering fairy lights and flickering candles. All that food and magical décor, what's not to love about Christmas? But writing a Christmas themed book and making it unique isn't as easy as it looks. Read on for my top tips on making your Christmas story as sparkly as possible!
Fancy a FREE short story and exclusive news and treats? Sign up to my mailing list now!
1. Decide on a Christmas theme
I know Christmas can be a theme in itself, but have a think about what specifically it is about Christmas you want to pull out in your story.
Belinda Missen's magical story One Week 'Til Christmas on how special Christmas in London is.
Jaimie Admans focussed her brilliant Christmas book The Little Christmas Shop on Nutcracker Lane on nutcrackers. Her love of them shone through the text and it gave a really unique feel to the Christmas story.
My novel Snowflakes at Mistletoe Cottage featured a food technologist and I was able to indulge my love of Christmas food.
Finding a particular theme can help you bring the Christmas feels in a more focussed way rather than just mentioning random things. Being specific means you can paint a more detailed picture which will definitely suck the reader in.
2. Look at pictures to help with setting
Having trouble describing a Christmas scene when it's baking hot outside? (We always end up writing or editing our Christmas books in summer!) My top tip is to look at pictures! Whether you create a mood board on Pinterest, or search online for specific things, taking the time to search out some pictures and thinking about how to describe them can make all the difference to your writing.
Bonus tip…I sometimes create a list of adjectives to describe all things festive! It's my go-to list because let's face it, there's only so many times you can use the word glittering or magical!
3. Create a playlist
Now, having music playing while you write isn't for everyone! I sometimes find myself singing along or writing the words to a song in my WIP! But, it can work for a lot of people and nothing brings back Christmas memories like Silent Night or Elton John's Step into Christmas. If music helps you get into the groove, why not try listening to a few songs before or during your writing session?
4. Read home décor magazines
This is my favourite tip because it's also an excuse to catch up on your reading! If you struggle to write descriptions of decorated houses or trees without using the same words over and over again, try reading a home décor mag and see how the professionals do it!
Somehow they manage to describe so much more than just how something looks, evoking the spirit and feel of a place too.
Is the design Scandi, modern and paired back or traditional? These cues can be really helpful for the reader in seeing what you what them to see.
5. Watch Christmas cookery shows
Okay, so maybe this is my favourite Christmas writing tip. When I was writing Snowflakes at Mistletoe Cottage I watched loads of cookery shows, not only to see how they describe the ingredients, but to listen to how their words evoke the season. You can say the word cinnamon at any time of the year, but saying it at Christmas gives it a whole new depth.
And don't forget that nothing makes you feel Christmassy like the staple things we eat at this special time of year.
Fancy a mine pie anyone? I know I do now!
And here's a bonus tip as a thank you for reading…
Make sure you use all the senses!
Don't just say the same things everyone else says! Use all five of the senses to give your writing depth and character: sight, sound, taste, smell, touch.
It's too early to say Merry Christmas, so how about happy autumn instead (we're nearly there!)
Photo by Markus Spiske on Unsplash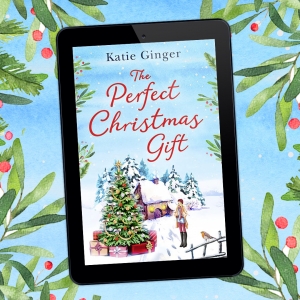 The Perfect Christmas Gift, my new Christmas romcom is available for pre-order now!
Can neighbours become more than just good friends this Christmas?
Bella Moore is excitedly counting down the days to Christmas. That is until she arrives home one evening to find her boyfriend leaving her for another woman. Completely heartbroken, Bella is left wondering if Christmas can still be the same this year.
Next door, Bella's neighbour Nick is facing his first Christmas as a single dad and doubting whether he can make it the magical time his son Freddie deserves.
Determined to fix both Christmas and their broken hearts, Bella comes up with an idea: a Christmas giving tree for the whole village, where the community can unite and secretly give each other the Christmas presents they truly need.
As Bella becomes chief elf, taking donations and delivering gifts with much-needed help from Nick and Freddie, the two neighbours grow closer and start seeing each other in a whole new light.
But when Nick's estranged wife returns just before Christmas, is their budding romance over before it's begun? Or will love be Nick and Bella's perfect gift this Christmas?
A heart-warming hug in a novel – this is the romcom you want to curl up with this Christmas! Perfect for fans of Heidi Swain, Trisha Ashley and Sarah Morgan.
Pre-order your copy now! https://amzn.to/3ko54gX
I'll be sharing an exclusive peak at the first chapter of The Perfect Christmas Gift soon. Make sure you sign up to my mailing list and you'll also get a FREE short story!