If you hadn't already guessed, I absolutely love Christmas, so I start my Christmas reading pretty early. Given that there are so many fabulous festive books out this year, I thought I'd give a shout out to some of the ones I'm looking forward to reading most.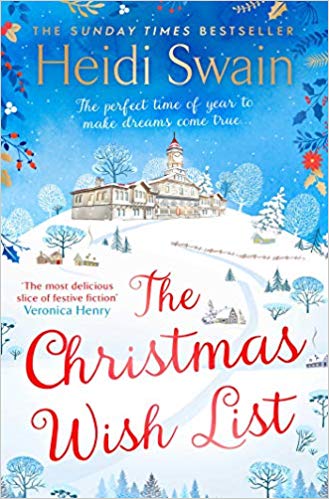 Heidi Swain – The Christmas Wish List
After being let go from her job in a swanky hotel just weeks before Christmas, Hattie is feeling lost. Even more so when her high-flying boyfriend announces he's landed his dream job in Abu Dhabi and asks her to move with him. Luckily, Hattie's long-time friend Dolly is on hand to help and invites Hattie to spend one last holiday in the small, festive town of Wynbridge, determined to give her a Christmas to remember
Upon Hattie's arrival, holiday preparations are in full swing. But for Hattie, whose Christmas cheer has long since run out, it'll take more than mince pies and mistletoe to open her heart to the season once more. Relishing the task of reigniting Hattie's Christmas spirit, Dolly suggests they create a wish list of all the things the season can offer, and with the helpful hands of Wynbridge's resident handyman, Beamish, Hattie finds her frosty exterior is starting to thaw. As Wynbridge prepares for its most spectacular Christmas yet, will Hattie leave snowy England behind for life in a sunnier clime, or will she in fact realise that her heart's desire lies much closer to home?
This is out in ebook now: https://amzn.to/2WpEMyo or you can pre-order the paperback here: https://amzn.to/2Jz2t22
Mandy Baggot – One Christmas Star
Emily Parker is set to have the worst Christmas ever!
Her flatmate's moved out, she's closed her heart to love and she's been put in charge of the school original Christmas show – with zero musical ability.
Disgraced superstar, Ray Stone is in desperate need of a quick PR turnaround. Waking up from a drunken stupor to a class of ten-year-olds snapping pics and Emily looking at him was not what he had in mind.
Ray needs Emily's help to delete the photos, and she needs his with the show. As they learn to work together they may just open their hearts to more than a second chance…
Out in ebook now: https://amzn.to/36ip5xG you can order the paperback here: https://amzn.to/2PzMm8b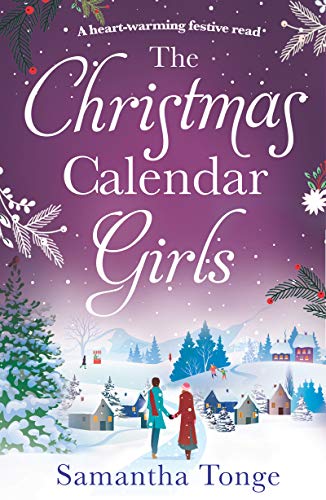 Samantha Tonge – The Christmas Calendar Girls
This Christmas fall in love with the town of Chesterwood…
Christmas is meant to be a time of giving, so with Chesterwood food bank under risk of closure Fern knows just what to do to save it. She's going to get the town to create a living advent calendar.
Fern, and her best friends, call for help from the local community to bring this calendar to life. When Kit, the new man in town, offers his assistance Fern's heart can't help but skip a beat (or two).
As they grow ever closer, Fern must admit that Kit's breaking down the barriers she built after the death of her husband. But his past is holding him back and Fern doesn't know how to reach him. No matter how hard she tries.
In this town, Kit's not the only one with secrets. Domestic goddess Cara is behaving oddly, burning meals in the oven and clothes whilst ironing, and Davina's perfect children are causing trouble at school leaving her son, Jasper, desperately unhappy.
Can the Christmas Calendar Girls find a way to bring the community together in time to save the food bank, while still supporting their families and each other? Can Fern find love again with Kit?
This is a story about kindness and letting go of the past. It's about looking out for your neighbours and about making every day feel like Christmas.
The ebook is out now: https://amzn.to/31ZNi8u and you can order the paperback here: https://amzn.to/36l47On
And finally…Some delights from my publishers HQ Digital!
Lucy Knott – Wishes Under a Starlit Sky
When life doesn't go to plan, you can write yourself a new story…
From the outside, Harper Hayes looks like she is winning at life.
She has an amazing job as a script writer, a wonderful house, an awesome best friend and an incredible husband. Yes, life seems to be pretty, dare she say it? Perfect?
But life is about to throw more than one spanner in the works of Harper's picture perfect existence and at the busiest time of the year too.
As Christmas approaches, Harper will have some soul searching to do to decide if there really is such thing as the happily-ever-after she writes about.
Get it now: https://amzn.to/2owDyoD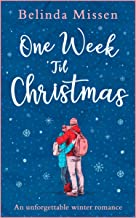 Belinda Missen – One Week 'Til Christmas
Two people. One chance meeting. Seven days to Christmas.
Isobel Bennett is waiting for the number 11 bus when a man quite literally falls into her lap. Snow is falling, Christmas lights are twinkling, and a gorgeous man with dark brown hair has just slipped on ice and is now pressed against Isobel.
Isobel knows she's not imagining the chemistry between them. But then his ride arrives and, embarrassed, he beats a hasty retreat, murmuring apologies – and Isobel realises only too late that she didn't manage to catch his name…
When she runs into him again the next morning, she decides it's fate.
It's a second chance for Isobel and Tom – but there's only one week until she's leaving London for good. Seven days of enjoying all the festive delights the city has to offer: ice-skating at Somerset House, mulled wine on the Southbank, Christmas shopping at Liberty.
There's magic in the air and mistletoe in the trees – but what will happen when the week is over?
Get it now: https://amzn.to/2BWUZBO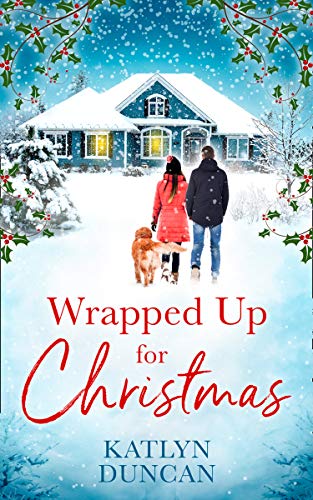 Katlyn Duncan – Wrapped up for Christmas
It's the most wonderful time of the year… but not for Angie Martinelli…
Having lost her boyfriend, job, and apartment all in the space of a week, Angie has no choice but to leave California and return to her family in New England.
Determined not to let life weigh her down, Angie finds work at the local mall where she worked as a teenager. After an embarrassing run-in with a handsome stranger, Nick, she's convinced her luck is about to change.
But Nick has secrets of his own…and as the first flakes of snow begin to fall, Angie can't help but wonder if she'll ever find love.
Get it now: https://amzn.to/2N0l7Cf