Now, I know you might have a stack of books you were given for Christmas, but regardless, you need to add these absolute bangers to your TBR list! I promise, give these amazing books a whirl and you won't be disappointed!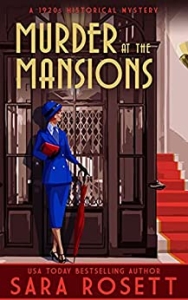 Murder at the Mansions, Sara Rosett
Published 11 January 2022
South Regent Mansions has all the modern conveniences . . . including murder
London, February, 1924. Discreet sleuth for the high society set, Olive Belgrave is delighted with her new flat at South Regent Mansions where she's made several friends, including the modern career woman, Minerva, who draws a popular cartoon about a flapper for a London newspaper.
But then Minerva comes to Olive for help after catching a glimpse of a disturbing sight—a dead body. At least, that's what Minerva thought she saw, but there's not a dead body anywhere in the posh building, and the residents are continuing with their lives as they normally do. Is Minerva seeing things? Is she barmy? Or is there a more sinister explanation?
To help restore Minerva's peace of mind, Olive investigates her neighbors. They include: society's "it" girl of the moment, an accountant with a fondness for gadgets, a snooty society matron, and a school teacher turned bridge instructor. Olive uncovers rivalries, clandestine affairs, and hidden jealousies. With dashing Jasper at her side, Olive must discover whose secret is worth killing for.
If you like sophisticated whodunits, charming characters, and novels with a lighthearted tone, you'll enjoy the seventh installment of the High Society Lady Detective series, Murder at the Mansions, from USA Today bestselling author, Sara Rosett.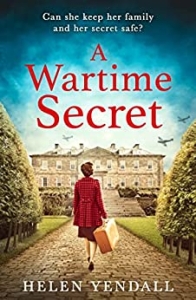 A Wartime Secret, Helen Yendall
Published 14 January 2022
'Look after Violet!' her mother called, as she was bundled into the back of the car. Then she was gone.
When Maggie's new job takes her from bombed-out London to grand Snowden Hall in the Cotswolds she's apprehensive but determined to do her bit for the war effort. She's also keeping a secret, one she knows would turn opinion against her. Her mother is German: Maggie is related to the enemy.
Then her evacuee sister sends her a worrying letter, missing the code they agreed Violet would use to confirm everything was well, and Maggie's heart sinks. Violet is miles away; how can she get to her in the middle of a war? Worse, her mother, arrested for her nationality, is now missing, and Maggie has no idea where she is.
As a secret project at Snowden Hall risks revealing Maggie's German side, she becomes even more determined to protect her family. Can she find a way to get to her sister? And will she ever find out where her mother has been taken?
An emotional and heartbreaking wartime novel for fans of Diney Costeloe, Dilly Court and Mandy Robotham.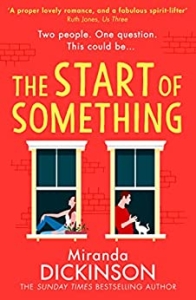 The Start of Something, Miranda Dickinson
Published 3 February 2022
Two lonely people.
One note in the window.
And what happens when they reach out…
Lachlan Wallace is stuck at home after a car accident stalled his army career. With months of physiotherapy still to endure and only his rescue dog and cat for company, he's taken to gazing out of the window, watching the world spin on without him. And then he notices a vase of flowers on the windowsill of the apartment opposite his. Drawn to their hope and colour, he decides to reach out and sticks a message in his window…
Bethan Gwynne is a stranger in a new town. Bringing up her son Noah by herself, she is slowly rebuilding her life, but loneliness is one obstacle she has yet to overcome. She's intrigued by a glimpse of her neighbour in the apartment across from hers – and then, one evening, she sees a message in his window just for her:
WHAT ARE THOSE FLOWERS CALLED?
And so begins a love story of two people reaching out, daring to trust a stranger…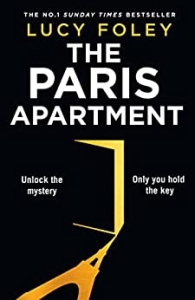 The Paris Apartment, Lucy Foley
Published 3 March 2022
Welcome to No.12 rue des Amants
A beautiful old apartment block, far from the glittering lights of the Eiffel Tower and the bustling banks of the Seine.
Where nothing goes unseen, and everyone has a story to unlock.
The watchful concierge
The scorned lover
The prying journalist
The naïve student
The unwanted guest
There was a murder here last night.
A mystery lies behind the door of apartment three.
Who holds the key?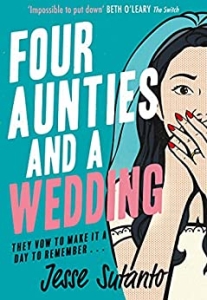 Four Aunties and a Wedding, Jesse Sutanto
Published 3 March 2022
It's supposed to be the perfect day…
After getting away with literal murder, Meddy can't wait to settle down and marry the love of her life, Nathan. She's found the dress, got the dream venue at Christ Church College, Oxford, plus having a destination wedding comes with the added bonus of not having to invite her very large extended family.
…But is it even a wedding if nobody gets killed?
Although when her meddling aunties get involved, Meddy knows her wedding is going to be anything but quiet. Even though there's no dead body hidden in the freezer this time, for better or worse, it's certainly going to be a day she's never going to forget…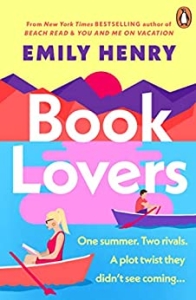 Book Lovers, Emily Henry
Published 3 May 2022
One summer. Two rivals. A plot twist they didn't see coming…
Nora is a cut-throat literary agent at the top of her game. Her whole life is books.
Charlie is an editor with a gift for creating bestsellers. And he's Nora's work nemesis.
Nora has been through enough break-ups to know she's the woman men date before they find their happy-ever-after. That's why Nora's sister has persuaded her to swap her desk in the city for a month's holiday in Sunshine Falls, North Carolina. It's a small town straight out of a romance novel, but instead of meeting sexy lumberjacks, handsome doctors or cute bartenders, Nora keeps bumping into…Charlie.
She's no heroine. He's no hero. So can they take a page out of an entirely different book?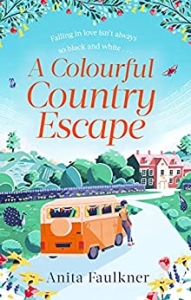 A Colourful Country Escape, Anita Faulkner
Published 9 June 2022
Falling in love isn't always black and white . . .
When vibrant but penniless Lexie is dumped by her posh boyfriend who is looking for a more financially suitable match, she decides to pack up her beloved orange campervan Penny in search of a new path. Stumbling upon a vacancy at a family-run paint company in the Cotswolds, Lexie believes she's found her perfect match . . .
Lexie arrives at Nutgrass Hall, home of Carrington Paints, but it seems that owner Benedict Carrington is less than impressed with her arrival, and Lexie realises she'll have her work cut out for her if she's to convince stuffy "Beige Ben" to trust her with rescuing his out-of-touch business. But Ben has more on his mind than just the company – his mother is determined to find him a suitable wife worthy of carrying the Carrington family name, or she'll take the business from him.
As Lexie sets to work on injecting some life colour into Carrington Paints, Ben allows himself to be set up with Tewkesbury's finest ladies. But the more time the pair spend together, the more they realise their feelings for each other aren't so black and white. Will Lexie be able to brighten into Ben's colourless world before it's too late?
So there you go! 7 more reads that sound absolutely amazing and have to be added to your TBR list.
Need more book recommendations and reviews? Sign up to newsletter and you'll get them straight to your inbox as well as my FREE writing tips to make 2022 the year you write your novel! Sign up here: https://bit.ly/3gbqMS0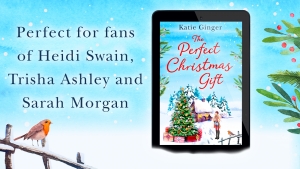 Still fancy a bit of festive fiction?
The Perfect Christmas Gift is available now!
Can neighbours become more than just good friends this Christmas?
Bella Moore is excitedly counting down the days to Christmas. That is until she arrives home one evening to find her boyfriend leaving her for another woman. Completely heartbroken, Bella is left wondering if Christmas can still be the same this year.
Next door, Bella's neighbour Nick is facing his first Christmas as a single dad and doubting whether he can make it the magical time his son Freddie deserves.
Determined to fix both Christmas and their broken hearts, Bella comes up with an idea: a Christmas giving tree for the whole village, where the community can unite and secretly give each other the Christmas presents they truly need.
As Bella becomes chief elf, taking donations and delivering gifts with much-needed help from Nick and Freddie, the two neighbours grow closer and start seeing each other in a whole new light.
But when Nick's estranged wife returns just before Christmas, is their budding romance over before it's begun? Or will love be Nick and Bella's perfect gift this Christmas?
A heart-warming hug in a novel – this is the romcom you want to curl up with this Christmas! Perfect for fans of Heidi Swain, Trisha Ashley and Sarah Morgan.
Grab your copy at: https://amzn.to/3ko54gX