Today I'm having a little chat with fabulous author, Susan Buchanan! Want to know a bit more about her and her brilliant books? Read on!
Hi Susan, and welcome to the blog!
Can you tell us about your journey to publication?
I kind of fell into publishing. I'd been writing on holidays only (as I had pretty time-consuming jobs before) until 2012, when I was made redundant. Whilst I looked for another job, my now-husband told me that I should think about putting the book I'd finished up on Kindle. I released Sign of the Times in March 2012 and then launched The Dating Game later that year. I was very active on social media, my blog and with my writing that year, but then my baby daughter arrived in March 2013 and her brother followed in January 2015. So, apart from the two Christmas books I wrote and dedicated to them for their first Christmases, I then didn't publish anything until November 2021 when I launched the first book in a new 4-part series – Just One Day – Winter. I also rebranded and relaunched some of my backlist books with new covers, more fitting to the genre, and they are awesome!
I had still been writing for the past two years, doing NaNoWriMo a few times – almost killed me – but I hadn't published anything as I had taken one particular book down the traditional publishing route – and it's still under consideration!
What's new for you in 2022?
2022 is rather action-packed! The end of 2021 saw three of my books going into paperback for the first time, which was a lovely feeling. The Dating Game paperback will release on 1 Feb, just in time for Valentine's Day.
My first book, Sign of the Times, will be issued in paperback for the first time, middle of March.
The second in the Just One Day series – Just One Day – Spring is already up for pre-order as it releases on 17 May.
And then I will be releasing Just One Day – Summer and Just One Day – Autumn in July and October respectively. So, it's going to be busy!
Favourite writerly things of 2021?
I went on a fabulous writers' retreat in November, my first, near Stratford Upon Avon and met authors whose books I had bought. That was really cool, and so much fun. I even met a children's author on the train on the way down!
Publishing my books in paperback for the first time – holding your book baby in your hands for the first time is a wonderful experience. Receiving my first box of author copies – I did try to get the kids to video me doing it, but I should have remembered the old adage – never work with children or animals – if it wasn't someone photo bombing at the last minute, it was my son getting a laundry basket in the video!
Finally publishing a book after 6 years of not. I love corresponding with the writing community, and had forgotten just how supportive everyone is.
Three publishers asking for the full manuscript of my as yet unreleased book.
What are you looking forward to in 2022?
Apart from the new book launches and all of my books being available in paperback by March, I have a weekend writing retreat booked in March too, which I am really looking forward to. It will help me get started on Just One Day – Summer! And then I am delighted to be going to a writing retreat at Chez Castillon in April in France, where the fabulous Jo Thomas is the tutor. I haven't been to France in years, although I used to live there, in Toulouse and also in the Vendée, so I am looking forward to immersing myself in the language and culture again, and naturally doing research for a new book!
I'm also attending the Scottish Association of Writers' conference in March and the Romantic Novelists Association conference in July. I can't wait to meet many of my online writer friends in person, although I am getting a sneak preview of that next weekend when I meet some of the Romantic Novelists' Association Scottish chapter for lunch.
What non-writing stuff are you looking forward to this year?
I am finally going to Cornwall. I have never been and have always wanted to go. So, this summer my dream will come true. With the number of books set in Cornwall, they've got to be onto something! May have to read a few of those before I go.
Spending more time outdoors, doing active things. I broke my ankle two years ago and again last year (I have great luck, me), so I am looking forward to being able to go hillwalking and cycling with the kids and getting fit again – believe me, I need to!
Reading more – I have so many favourite authors now, and the downside to having so many books to re-release and launch is there's a lot of work involved around them, not only the writing, so I had less time to read last year. I have a fair amount of catching up to do, and I can't wait. Late autumn, I bought a reading pod for the garden, and it is amazing! Can't wait until the weather abates a little, so I can sit out in it (it's currently blowing a gale here).
I'm also hoping to see far more of my friends and family this year. I'm very much of the mind, 'get stuff in the diary' as otherwise it simply doesn't happen.
All in all, I am looking forward to 2022 being the year we all deserve after the last two.
Thanks so much for joining us, Susan!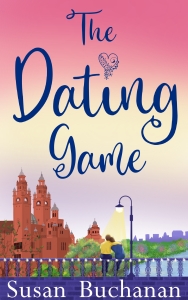 'A delicious summary of every perfect and nightmare date a girl has ever been on.'
Work, work, work. That's all Glaswegian recruitment consultant Gill does. Her friends fix her up with numerous blind dates, none suitable, until one day Gill decides enough is enough.
Seeing an ad on a bus billboard for Happy Ever After dating agency 'for the busy professional', on impulse she signs up. Soon she has problems juggling her social life as well as her work diary.
Before long she's experiencing laughs, lust and … could it be love? But just when things are looking up for Gill, an unexpected reunion forces her to make an impossible choice.
Will she get her happy ever after, or is she destined to be married to her job forever?
Links for The Dating Game – ebook – books2read.com/u/menGKl
Paperback – amzn.to/3ocQaNo (UK) & amzn.to/3gec3HS (US)
Social media – Twitter – susan_buchanan
Instagram – AuthorSusanBuchanan
Facebook – www.facebook.com/susan.buchanan.author