Today we're back to business as usual and I'm really excited to welcome the amazingly talented Pernille Hughes to the blog!
Random things for writers, wherever you're at in your writerly wranglings.
I'm still a new author, with much to learn, but I've picked up a few things in the last four years, odd nuggets to be fair, and so I thought I'd share them with you.
For the newbie writer– It's great to have a fantastic scenario for your story, but your characters are key. They need to feel real and rounded to your readers. They need to be flawed, even the goodies, not just the baddies. My tip;
Get a big glass of wine.
Shut yourself away from people with said glass of wine, a pen and a pad.
Take a long hard look at yourself and write down all your flaws on the pad. Be merciless. No one else needs to ever see this list.
Drink the big glass of wine.
You now have a list of flaws (if it isn't a list then you haven't been merciless enough, or you're a saint, or deluded, or both) that you can mine for your characters and dig really deeply into when you write, because you have an understanding of them and what they feel like and possibly why they exist. This is writing what you know…
For the editing writer – 'If you think it might need cutting , it probably does'. I can't remember where I read this, but it is annoyingly true.
For the promo-shy writer – Start early in trying to build your platform, and do this by connecting with other readers like you. Essentially, FIND YOUR TRIBE. No matter how niche your reading tastes there will be others like you to be found on Instagram, Facebook or Tiktok. You just need to use the hashtags and look. Join the conversation, let them get to know you over something you all love, no selling. Same for your writing. Find your readers, connect with them- again not selling- engaging and listening. One day when you and your debut are ready, your social media friends will be there to beta read for you, review for you,  cheer for you, and perhaps even buy your book.
For the querying writer – Rejection Chocolates. This is a vital part of your submission prep.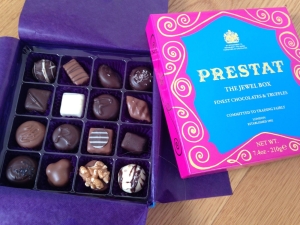 Buy a really good box of chocolates. Something fancy you wouldn't normally buy.
Hide them. (From yourself and any family members who like to share your stuff.)
If you get a rejection you may eat one. (ONE!!!)
When you get an offer of representation you may scoff what's left.
The rejection will still be sad, but the chocolates take the sting off.
The doubting writer – This should really be bolted into the submission process. Your Inner critic is a b*tch and Imposter syndrome is real.   Make a new doc. Title it Vainglory file and bury it deep in your folders where no one else will stumble across it. Any time a rejection letter says something nice, copy that line into your file.  Add any other compliments you might get about your writing from anywhere.  Have a little read of it whenever you are feeling low about this crazy business.  Sometimes you just need a pep talk or a pat on the back.
The newly-signed writer – CELEBRATE!!! This game will be slow and lonely and hard, so make the most of every blooming good moment and find some way, however small, of partying for it. Celebrate getting your deal, signing your contract, sending in your edits, the cover reveal (have it made into a phone case so you always have an image easily to hand, have it made into a canvas -your walls need it!), publication day (have that launch party- do it! -don't be bashful, this is a rare thing – your friends will want to celebrate you – accept it and bask in it!!), your box of proofs arriving  (film that unboxing and sniffing the pages, it's all good social media content), your bestseller flag on Amazon even if it only lasts twenty four hours in the most obscure category, every 5star review. Celebrate it all. Life is short, and hard enough, take the moments of glory wherever and whenever you can.
For the blocked writer – Some authors believe there's no such thing as writers block. Well, they're just lucky not to have experienced it. That 'wanting to but simply having nothing coming' and an inability to conjure or connect any words. Plus the ensuing self-loathing and chastising. I've been there, more than once, and here's how I make my way back out;
Stop. Just stop. Give yourself permission not to write and cast off the self-loathing. Just for a few days. It's not for ever. Don't be mad – you're a writer, you're destined to write. But for now you need a little recharge.
Take five days off. Read books. Go places. Watch films. Start refilling your creative well. No writing. Nope, not a thing, even if you suddenly want to. (That's what note books are for. Jot things down. Just prompt words and bullet points. No cheating.)
On day six write a word. A single world. Just that one. Nothing more, even if you want to. Now go away and do something else.
On day seven write a sentence. Doesn't have to connect to the word from the day before, not if you don't want it to. You are the boss of this.
Day eight, write two sentences. Don't get frisky and carry on – be strict with yourself if that what you were thinking. Make some notes somewhere if you need to, but notes only, not sentences – that would still be cheating and you know it. And if producing the two sentences are hard, then do some more reading, watching, playing.
Day nine, three sentences. You know the drill.
Day ten, a paragraph, no more no less. I think you've got the gist. And by now I'm hoping that things have started to spark again. You're wanting to write and raring to go, maybe making more notes.
Day eleven – now it's down to you. Are you feeling fired to relaunch back into your MS like a firework, or are you still healing? If the latter, try two paragraphs, then three until the words take over. If it's the former, forgive yourself the lost days – they weren't lost, you were recharging-, race on and godspeed!
For the established writer – Help a newbie writer. Someone will have helped you at some point. Or else you wish that someone had. So, befriend a beginner, make an introduction, pass on some advice, give a quote. Whatever you can.  Hopefully they'll pass it on when it's their time.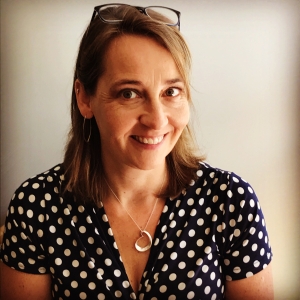 Before she moved to writing full-time, Pernille Hughes studied Film & Literature at university. After she graduated, she went on to market Natural History films before working in Children's television, which meant living in actual Teletubbyland for a while. From 2011–2015, she was a regular contributor for The Sunday Times column 'Confessions of a Tourist'.  Pernille lives in Buckinghamshire and while the kids are at school she scoffs cake and writes stories in order to maintain a shred of sanity.
Links:
Twitter; @pernillehughes
Instagram; @pernillehughes
Facebook; PernilleHughesAuthor
Bookbub; /Pernillehughes
Pernille's latest read Ten Years is out from 31 August!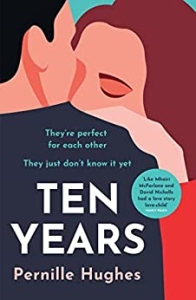 They're perfect for one another.
They just don't know it yet.
Becca and Charlie have known each other since university.
Becca and Charlies have also hated each other since university.
Until now. Until Ally's bucket list. The death of their loved one should mean they can go their separate ways and not look back. But completing the list is something neither of them can walk away from.
And sometimes, those who bring out the worst in you, also bring out the very best…
Over the course of ten years, Becca and Charlie's paths collide as they deal with grief, love and life after Ally.
Don't forget to sign up to my monthly newsletter to hear sneaky updates on my writing, read writing tips and get a FREE short story!