Today I'm welcoming the lovely Sharon Booth to the blog to tell us all about writing a series!
From Little Acorns…
Someone asked me the other day if all my books are part of a series, or if I've ever written a standalone. When I thought about it, it surprised me to realise that almost all my books started as standalones, but somehow ended up in a series.
You never know what a story will develop into. Take New Doctor at Chestnut House, for example. I wrote that because I wanted to pen a second pocket novel for the People's Friend. Having seen my first pocket novel, All Because of Baxter, on the supermarket shelves and in WH Smith (a childhood dream fulfilled!) I wondered if I could get a second one accepted.
I'd started writing the third in my Kearton Bay series at the time, but it wasn't working. The characters and story didn't feel right for the series, even though I knew they had potential. After much thought, I took those characters and part of the plotline and created a different story in a brand-new setting. I subbed it to DC Thomson, and it was accepted. Some time later it was published by Ulverscroft, as part of their large print Linford Romance Library, as The Doctor's Daughter. It had been a People's Friend pocket novel as Surrender to Love. I then published it on Amazon as an ebook with the title, New Doctor at Chestnut House.
I decided I loved the setting of Bramblewick, a little village on the North Yorkshire Moors, so much that I wanted to continue writing about it. The Bramblewick series ended up consisting of six novels.
All Because of Baxter, meanwhile, was also published by Ulverscroft, before I rewrote it as a Christmas novel, and published it on Amazon as Baxter's Christmas Wish, where it eventually became the first in my Home for Christmas series.
When I began plotting Belle, Book and Candle, I had one line in my mind. A book of magical mishaps. That was it. Belle became the first in my The Witches of Castle Clair series, and originally I'd planned for it to stop at three books. However, I got so many messages asking for more from the St Clair family that I'm now expanding the series to six books. I've also got an idea for a spin-off series.
I'm currently working on a second new series called Tuppenny Bridge, which is set in a small market town in the Yorkshire Dales. That started off as one simple idea for a story which was about a particular couple and what happens when their marriage begins to fall apart. Before long I was thinking about how that would impact their friends and neighbours, and because they're central figures in the town, how it would affect the community as a whole. Soon I realised I could picture that community clearly, and thought I'd like to write a few more books about my couple's neighbours before I got to their story. Hence, the Tuppenny Bridge series. Then, because it was a market town, I decided I'd like to write a few books about the market stallholders. And there's a horse sanctuary in Tuppenny Bridge, so I've now got a trilogy planned based around that. I'm also keen to explore the town's past, so that's another idea I hope to work on…
They say, from mighty oaks little acorns grow, and it seems they're right. One idea can lead to so many others. One standalone story can grow and develop, and before you know it you've got a series (or two, or three!) to write. That's part of the joy of storytelling, and it's just one of the reasons I love my job so much.
Thanks so much for inviting me onto your blog, Katie!
Thank you so much for stopping by, Sharon!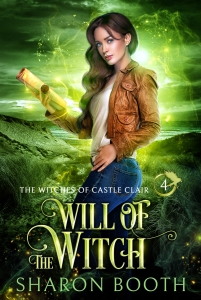 Book 4 of The Witches of Castle Clair series, Will of the Witch, is available to pre-order at https://getbook.at/cc4 and will be published on July 26th.
About Sharon:
Sharon writes about the lighter side of life, love, magic, and mystery. Her characters may be flawed, but whether they're casting a spell, solving a mystery, or dealing with the ups and downs of family life or romance, they do it with kindness and humour.
Sharon likes reading, researching her family tree, and watching Doctor Who, and Cary Grant movies. She admits to being shamefully prone to crushes on fictional heroes.
Her stories of love, community, family, and friendship are set in pretty villages and quirky market towns, by the sea or in the countryside, and a happy ending is guaranteed.
If you love heroes and heroines who do the best they can no matter what sort of challenges they face, beautiful locations, and warm, feelgood stories, you'll love Sharon's books.
Find out more about Sharon on her website: www.sharonbooth.com
Or sign up for her newsletter and get all the latest news, book updates, the chance to win a prize every month, and your copy of an exclusive novella.