In case you missed it, Monday was the cover reveal for The Little Library on Cherry Lane, available from 11th March 2022!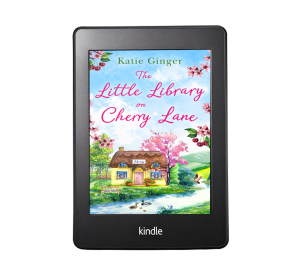 What do you think of this gorgeous cover? Isn't it just BEAUTIFUL?
And if you'd like to know a little more about what it's about, here's the blurb:
The heart-warming new novel from the author of The Secrets of Meadow Farmhouse and The Perfect Christmas Gift, perfect for fans of Cathy Bramley, Rachael Lucas and Heidi Swain.
Elsie Martin may lead a quiet life, but working in her beloved local library is enough to make her happy. After all, books have always been her armour against the world. So when the library is threatened with closure to make way for a new housing development, Elsie knows it has to be saved – and that, despite being painfully shy, she needs to lead the campaign to save it.
Jacob Yardley thinks he's doing the right thing by building a new affordable housing development. Why shouldn't local people be able to buy a house in the place they grew up? Having to leave his own small hometown broke his heart. Plus, people don't really use libraries anymore, do they?
As Elsie and Jacob clash over the future of the library, sparks begin to fly. Jacob is falling back in love with books and libraries – could he possibly be falling for her too? And will Elsie be able to save the library that means so much to her?
Enemies to lovers all set in a library? What's not to love!
Fancy a cheeky pre-order? Here's the link: https://amzn.to/34NsN5W