When her dreams of young love were cruelly shattered, Nerissa Morgan found it hard to move on. Now, at forty-three, everyone around her is enjoying life while she's just going through the motions. With her boss retiring and rumours of a new doctor coming in to take over the practice she manages, change is coming, whether she's ready for it or not.
Following the death of his beloved wife, Tom Nelson buried himself in work at his busy inner-London GP practice. When his teenage children find themselves in trouble at school, he realises he's completely lost touch with them. Desperate to reconnect before it's too late, he whisks his family away to the pretty seaside village of Mermaids Point determined to make a fresh start.
But all is not as idyllic as it seems. With his predecessor reluctant to let go of the reins and the children as distant as ever, the last thing Tom needs is an undeniable attraction to the woman he unexpectedly finds himself sharing a roof with…
Sarah is one of my absolute favourite authors and a total must-read. Her books are packed full of family, romance and gorgeous heroes you can't help but fall in love with too. Autumn Dreams is, I think, one of Sarah's best books. Mermaids Point is a gorgeous setting (and if you haven't read Summer Kisses at Mermaids Point you really should), but the thing that makes this book special is the characters. Both are a little older and that brings with it a totally different aspect to the book. Nerissa is a kind and thoughtful woman who's become trapped in her own life and Tom is a dad who's doing his best with two teenage children. I love the maturity of the characters and the different battles they face. The romance is my favourite type of slow-burn and the ending will have you cheering for them even more.
This is definitely the book to cuddle up with this autumn!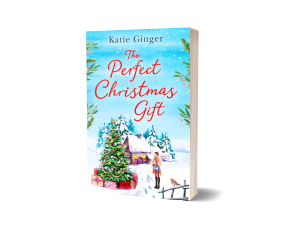 The Perfect Christmas Gift, my new Christmas romcom is available for pre-order now!
Can neighbours become more than just good friends this Christmas?
Bella Moore is excitedly counting down the days to Christmas. That is until she arrives home one evening to find her boyfriend leaving her for another woman. Completely heartbroken, Bella is left wondering if Christmas can still be the same this year.
Next door, Bella's neighbour Nick is facing his first Christmas as a single dad and doubting whether he can make it the magical time his son Freddie deserves.
Determined to fix both Christmas and their broken hearts, Bella comes up with an idea: a Christmas giving tree for the whole village, where the community can unite and secretly give each other the Christmas presents they truly need.
As Bella becomes chief elf, taking donations and delivering gifts with much-needed help from Nick and Freddie, the two neighbours grow closer and start seeing each other in a whole new light.
But when Nick's estranged wife returns just before Christmas, is their budding romance over before it's begun? Or will love be Nick and Bella's perfect gift this Christmas?
A heart-warming hug in a novel – this is the romcom you want to curl up with this Christmas! Perfect for fans of Heidi Swain, Trisha Ashley and Sarah Morgan.
Pre-order your copy now! https://amzn.to/3ko54gX
Sign up to my mailing list and you'll get my undying thanks and a FREE short story!