In the run up to publication day, I love to talk about the inspiration behind my novel and share with the reader why I chose to write about those things. So today, I thought I'd tell you a little bit more about Bella, heroine from The Perfect Christmas Gift.
Bella is incredibly comfortable in her sweet hometown with her lovely boyfriend, until lovely boyfriend decides to leave her right before Christmas. In an effort to ward off her fears that Christmas will be ruined, she decides to start a giving tree at Bluebell Park, the community park where she volunteers.
If you've never heard of a giving tree, it's a way some charities fund raise and is becoming more and more popular. With a giving tree, tags are placed on the tree that people take and then return with the gift requested on the tag. I love the idea of it and seeing the presents mount up under the tree knowing you're going to make someone in need very happy this Christmas and that's why I wanted to use it for The Perfect Christmas Gift.
Bella's also a teacher at a local primary school and is dealing with the highs and lows of that profession. One day she's happily watching rehearsals for the Christmas play (remember the film Nativity? That was a big inspiration for me!) and the next she's sorting out problems between the children.
As Christmas draws near, she finds herself drawn to next door neighbour and single dad, Nick (think Henry Cavill…*swoon*) and as they grow closer she begins to see that Christmas might not be ruined after all!
I loved writing Bella because she's just a genuinely nice person. Does she have faults? Of course she does, but she's kind and considerate and is actually based on an amazing friend of mine. For me, she was the perfect heroine for this story. Next week I'll introduce you to Nick and his gorgeous boy Freddie and tell you a little bit more about the trials and tribulations they'll face this Christmas, but don't worry, I won't give any spoilers!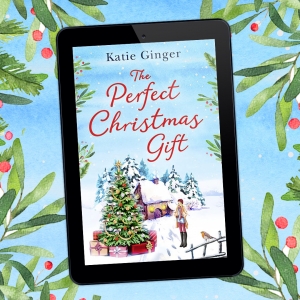 The Perfect Christmas Gift, my new Christmas romcom is available for pre-order now!
Can neighbours become more than just good friends this Christmas?
Bella Moore is excitedly counting down the days to Christmas. That is until she arrives home one evening to find her boyfriend leaving her for another woman. Completely heartbroken, Bella is left wondering if Christmas can still be the same this year.
Next door, Bella's neighbour Nick is facing his first Christmas as a single dad and doubting whether he can make it the magical time his son Freddie deserves.
Determined to fix both Christmas and their broken hearts, Bella comes up with an idea: a Christmas giving tree for the whole village, where the community can unite and secretly give each other the Christmas presents they truly need.
As Bella becomes chief elf, taking donations and delivering gifts with much-needed help from Nick and Freddie, the two neighbours grow closer and start seeing each other in a whole new light.
But when Nick's estranged wife returns just before Christmas, is their budding romance over before it's begun? Or will love be Nick and Bella's perfect gift this Christmas?
A heart-warming hug in a novel – this is the romcom you want to curl up with this Christmas! Perfect for fans of Heidi Swain, Trisha Ashley and Sarah Morgan.
Pre-order your copy now! https://amzn.to/3ko54gX
Don't forget to sign up to my mailing list and you'll receive a FREE short story!