I can't quite believe publication day is nearly here, so I wanted to introduce you to our hero (Henry Cavill lookalike) Nick Cowley and his gorgeous son, Freddie, because if we didn't have Nick, we wouldn't have a love story!
Nick works as a landscape gardener in and around Meadowbank. He's a single father to ten-year-old Freddie since his wife Paige left him six months before, running out on them both to travel to Bali. Apart from the odd phone call, he hasn't heard hide nor hair of her since.
Facing his first Christmas as a single dad to a son that's still heartbroken, he wants to make things as magical as possible. But they soon face more than they bargained for when Freddie starts being bullied at school.
Bullying is a subject very close to my heart as my little boy has been bullied at school and I myself suffered from bullying too. It's a topic that needs more attention, in my opinion, but I wanted to include it here because Christmas is a time for kindness and forgiveness, and I always like to include some real-life drama in my character's lives. I mean, it wouldn't be a romance if they didn't face a few obstacles would it?
Will working with Bella on the Meadowbank giving tree bring them together? Or will the sudden arrival of his wife stop their romance before it's even begun?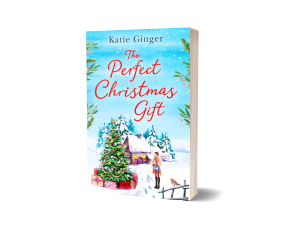 The Perfect Christmas Gift, my new Christmas romcom is available for pre-order now!
Can neighbours become more than just good friends this Christmas?
Bella Moore is excitedly counting down the days to Christmas. That is until she arrives home one evening to find her boyfriend leaving her for another woman. Completely heartbroken, Bella is left wondering if Christmas can still be the same this year.
Next door, Bella's neighbour Nick is facing his first Christmas as a single dad and doubting whether he can make it the magical time his son Freddie deserves.
Determined to fix both Christmas and their broken hearts, Bella comes up with an idea: a Christmas giving tree for the whole village, where the community can unite and secretly give each other the Christmas presents they truly need.
As Bella becomes chief elf, taking donations and delivering gifts with much-needed help from Nick and Freddie, the two neighbours grow closer and start seeing each other in a whole new light.
But when Nick's estranged wife returns just before Christmas, is their budding romance over before it's begun? Or will love be Nick and Bella's perfect gift this Christmas?
A heart-warming hug in a novel – this is the romcom you want to curl up with this Christmas! Perfect for fans of Heidi Swain, Trisha Ashley and Sarah Morgan.
Pre-order your copy now! https://amzn.to/3ko54gX
Don't forget to sign up to my mailing list and you'll receive a FREE short story!