I've worked hard this January to help you chase the blues away with some lovely author interviews and I've got another cracker for you today! The lovely Rachel Brimble is joining me to talk about writing, and of course, books! Come and join us!
Hi Rachel, thanks for joining us! Can you tell me a bit about you and your latest work.
Thanks for having me here today! I live near Bath with my husband, two daughters (although both away studying at the moment!) and our mad chocolate Labrador, Tyler. When I'm not working (which isn't often), I love to read, knit, watch TV and socialise with friends and family.
My latest book is A Rebel At Pennington's which is the second book in my new Edwardian series (both books can be read stand alone). The series is set in Bath's finest department store and the series theme is 'female empowerment'. Each book covers a woman's issue of the early 20th century and the strong heroines battling to make a change and the men who stand right beside them…
Describe yourself in 3 words.
Caring
Hardworking
Funny (at least I hope so!)
How would you Twitter pitch your novel?
Perfect for fans of Mr Selfridge, A Rebel At Pennington's is a book full of passion, intrigue, struggle and triumph…
What are your top 3 tips for aspiring writers?
Give yourself permission to write a crappy first draft
Ensure you have an active social media presence
Concentrate on your protagonist's past and their internal conflict – always!
Are you a panster or plotter?
A plotter – I start each book trawling the internet for pictures of my hero and heroine (and villain if I have one!). I then complete characters sketches which often brings out their goals, motivations and conflicts. Then I write a chapter plan and a 3-4 page synopsis. I always have a solid idea of the book before I start writing, but I'm always happy to go with the characters if they take me in an unexpected direction. I always trust my characters!
What does success look like to you?
That I can continue to write and secure contracts for as long as I'm able to write – I love my job, it's my passion and I can't imagine being happy doing anything else nowadays. I consider myself very blessed and hope it lasts forever!
What do you do when you get stuck with your writing?
Keep going! Once a writer secures a publishing contract, giving up or procrastinating is no longer an option. That's why I give myself permission to write a crappy first draft. I write the initial draft from start to finish without looking back. A full page can be edited, a blank page can't. Simple.
Who's your favourite author and why?
Ooh, so many! If I have to name my favourite of genres, I'd said… Nora Roberts for romance, Alex Grecian for historical crime and Jodi Picoult for women's fiction.
How do you relax?
Knit while watching my favourite TV shows – knitting is my next obsession to writing and if I get to have a lazy Saturday or Sunday afternoon, I am never happier than sitting in front of the TV catching up with my favourites and knitting.
And now for some silly questions just for fun…
Tea or coffee?
Coffee
Beer or wine?
Wine
Chips or curly fries?
Chips
Puppies or kittens?
Puppies
Summer or winter?
Summer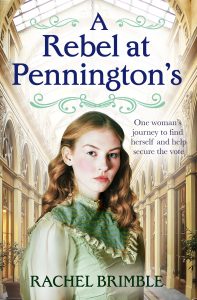 One woman's journey to find herself and help secure the vote. Perfect for the fans of the TV series Mr Selfridge and The Paradise.
1911 Bath. Banished from her ancestral home, passionate suffrage campaigner, Esther Stanbury works as a window dresser in Pennington's Department Store. She has hopes and dreams for women's progression and will do anything to help secure the vote.
Owner of the prestigious Phoenix Hotel, Lawrence Culford has what most would view as a successful life. But Lawrence is harbouring shame, resentment and an anger that threatens his future happiness.
When Esther and Lawrence meet their mutual understanding of life's challenges unites them and they are drawn to the possibility of a life of love that neither thought existed.
With the Coronation of King-Emperor George V looming, the atmosphere in Bath is building to fever pitch, as is the suffragists' determination to secure the vote.
Will Esther's rebellious nature lead her to ruin or can they overcome their pasts and look to build a future together?
Rachel lives with her husband and their two daughters in a small town near Bath in the UK. Since 2007, she has had several novels published by small US presses, eight books published by Harlequin Superromance (Templeton Cove Stories) and four Victorian romances with eKensington/Lyrical.
In January 2018, she signed a four-book deal with Aria Fiction for a new Edwardian series set in Bath's finest department store. The first book, The Mistress of Pennington's released July 2018 with book two coming February 2019.
Rachel is a member of the Romantic Novelists Association and Romance Writers of America and has thousands of social media followers from all over the world. To sign up for her quarterly and new release newsletter, click here to go to her website: https://rachelbrimble.com/
Instagram: https://www.instagram.com/rachelbrimbleauthor/?hl=en
Amazon Author Page:
https://www.amazon.com/Rachel-Brimble/e/B007829ZRM/ref=sr_ntt_srch_lnk_1?qid=1490948101&sr=8-1
Goodreads:
https://www.goodreads.com/author/show/1806411.Rachel_Brimble
Bookbub:
https://www.bookbub.com/authors/rachel-brimble
Hopefully this has whet your appetite for more of Rachel Brimble so head on over and grab a copy of one of her amazing books now!
Amazon UK: http://amzn.eu/d/aMjIi3K
Amazon US: http://a.co/d/dAhCQiZ
Barnes & Noble: https://www.barnesandnoble.com/w/a-rebel-at-penningtons-rachel-brimble/1130076169;jsessionid=8DABBC4C49B4DD0FB3A1A524685B8BB2.prodny_store02-atgap09?ean=9781788546515
Kobo: https://www.kobo.com/gb/en/ebook/a-rebel-at-pennington-s
Google Play: https://play.google.com/store/books/details/Rachel_Brimble_A_Rebel_at_Pennington_s?id=r5RtDwAAQBAJ