Nicola May is joining me as my author interview today with a great festive read! Her novella Christmas Spirit is available now. Does anybody else just love this time of year with all the Christmassy reads coming out?
Tell me a bit about you and your latest work.
My name is Nicola May. I live in Ascot in Berkshire with my rescue cat Stan and I write romcom. My latest novel is The Corner Shop in Cockleberry Bay. It came out in April and I am delighted that it has been so well received, receiving a jaw dropping 340 x 5 star reviews to date. I am currently writing the sequel; working title The Cockleberry Bay Café which will be published in the Spring.
Nicola's novel Christmas Spirit is also available now.
Describe yourself in 3 words.
Energetic, determined, generous
How would you Twitter pitch your novel?
When Rosa inherits a corner shop in Devon from a mystery benefactor, her life changes in many interesting ways
What are your top 3 tips for aspiring writers?
Write!
Get the first draft down then go back and edit
Never give up
Are you a panster or plotter?
I have a rough idea of plot then go where my imagination takes me
What does success look like to you?
Getting to a level when you can write full time
How do you choose your character names?
I choose short first names as I know I will be writing them a lot.  I also have been known to look at film and TV credits for sirnames in particular.
Do you ever Google yourself?
Yes. I like to see where I sit in listings
What do you do when you get stuck with your writing?
I got for a long walk on Ascot Racecourse and swirl plot ideas around in my head
How long does it take you to write a book?
I can write a book in six weeks if I don't have any other commitments
What do you find hardest/easiest about writing?
Writing a sequel can be challenging as you have to introduce the characters to a new reader and not bore someone who has read the first book
Describe your writing process in 3 words.
Intense, chaotic, consuming
If your book/one of your books got made into a film, who would play the main roles?
Jenna Colman would make a great Rosa Larkin from Cockleberry Bay
What's been your biggest learning curve?
That having a traditional publisher does not guarantee success
Do you prefer pen and paper, or is everything on the computer?
All on my trusty laptop
Who's your favourite author and why?
Patrick Gale. He writes the most amazing flawed characters and amazing observational one liners
What's your favourite book?
The Shell Seekers by Rosamunde Pilcher
How do you relax?
I love to travel to Devon, eat good food and be by the sea. I also love to walk in the countryside.
And now for some silly questions just for fun:
Tea or coffee? 
Tea
Beer or wine?
Wine
Chips or curly fries?
Chips
Puppies or kittens?
Kittens
Summer or winter?
Summer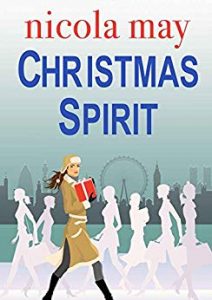 The Corner Shop in Cockleberry Bay is Nicola May's ninth novel. In 2012 she won Best Author Read at the Festival of Romance for The School Gates and again in 2014 for Christmas Evie. Nicola likes to write about love, life and friendship in a realistic way, describing her novels as 'chicklit with a kick'. Nicola May lives near the famous Ascot racecourse with her black-and-white rescue cat, Stan. Her hobbies include watching films that involve a lot of swooning, crabbing in South Devon, eating flapjacks – and, naturally, enjoying a flutter on the horses.
Find out more about the author at www.nicolamay.com. She is also on Twitter @nicolamay1, Instagram as author_nicola and has her own Facebook Book Page.
You can get your copy of Christmas Spirit here: https://amzn.to/2yGt3AK