I'm really excited to welcome Kiley Dunbar to my interview slot today, especially as she was one of the first people to sign with the fab new publishers, Hera Books. Her cover is gorgeous and I can't wait to share this with you guys!
Come on in, Kiley and grab a seat! Tell me a bit about you and your latest work.
Hi! I'm Kiley Dunbar and I've just published One Summer's Night, with the brilliant, kickass Hera Books. It's my debut novel and was loads of fun to write. One Summer's Night follows Kelsey Anderson during a fateful job-loss, a moment of clarity about her crap boyfriend and the discovery of an unexpected, curve-ball job advertisement that sees her packing her suitcase, her copy of Shakespeare's Sonnets and her vintage camera and heading off for a working summer in Stratford-upon-Avon. There's star crossed lovers, double crossing and a dramatic theatrical gala night under the stars in store for her there. Oh, and there's a Happy Ever After too if Kelsey can just develop a wee bit of self-confidence and go for what she wants!
Describe yourself in 3 words.
Romantic Recovering Academic.
How would you Twitter pitch your novel?
A staycation novel featuring a heatwave summer in Stratford-upon-Avon: Shakespeare, sizzling romance, and a happy ever after.
What are your top 3 tips for aspiring writers?
Make friends with other writers or you'll be very lonely.
Don't submit work before its ready just because you're champing at the bit with impatience. Make it as polished as you can.
Try not to let your writing be the only creative thing you do. Free up your imagination and creativity with other fun, playful stuff. (And I am the worst at taking my own advice here. I wish I was filling my non-writing time with arty adventures but mostly I'm doing work admin, cleaning Weetabix off the carpet and stopping the kids bickering.
Are you a panster or plotter?
Plotter. I get a full plan down on paper before I begin. Then I make a mood board. Then I sit down to write knowing where I want to end up, and having the character arcs in my head all along. And that's when the plan becomes flexible; parts get ditched or enlarged or reworked as I write, but I need that framework to give me the courage to start.
What does success look like to you?
My publisher putting their heart and soul into my book too. When Hera said they liked my work, I thought, 'wow, they actually think I can do it!' Then I saw how much work my editor Keshini Naidoo put into helping me get the edits right, and then the whole team got involved with copy and proof reading, and cover art, and organising the blog tour. I felt then like I'd actually made it. When other people expend energy on a joint project it makes you take it all the more seriously too. And hearing my book as an audible audiobook (narrated by Eilidh Beaton) just blew my mind. A whole lot of people got behind One Summer's Night and did everything they could to make it successful. That has been the most surprising, joyful thing about the whole process; just having people backing me to succeed. I'd never experienced that before.
How do you choose your character names?
Sometimes names just appear as the character does, right at the planning stage and they stick; other times I spend hours looking at regional names popular in the decade they were born and I faff and change my mind ten times before settling.
Do you ever Google yourself?
I did at first. Then I realised there's a reason authors should not go looking for people talking about them or their work J
What do you do when you get stuck with your writing?
When I'm stuck it's usually because I don't want to write the next section. So I ask myself why that is. Usually there's something stopping me, like the scenes actually a bit boring, or not quite fully developed or needs more research. So I re-plan that bit, and that gets me on way again.
How long does it take you to write a book?
I started One Summer's Night at the end of August 2017 and wrote 'the end' on draft one on Hogmanay, but I'd taken a good month and a half off that autumn as term time at the uni where I teach was in full swing and I just couldn't manage both jobs – so it took three months-ish for the first one. The second one feels like it's taken three years but I just hit 'send' on that last night, so my editor has it now! Eek!
What's your main weakness as a writer eg.SPaG, continuity etc?
I'm not good at stepping away from the manuscript and letting it rest so I can get some distance from it. I tend to faff on and tweak it. But I'm learning! Next time I'll put draft one away for a few weeks before looking at it with fresh eyes and redrafting.
What do you find hardest/easiest about writing?
I find writing fiction easier than writing academic stuff, but not because it's actually easier to do (if anything its way harder because I want my readers to love my novels and I know readers of romantic fiction have very high standards) because it's so much more fun and exciting.
Describe your writing process in 3 words.
Plot, plod, repair.
If your book/one of your books got made into a film, who would play the main roles?
Ooh! For One Summer's Night I'd want to cast Toby Stephens as the saucepot charmer Will Greville and can I have Phoebe Waller-Bridge as Mirren? And Kelsey Anderson would need to be played by someone cute and young and a bit naive looking but who has a kickass streak once she gets in touch with it, say…Natalie Dormer?
What's been your biggest learning curve?
I'm in more of a never ending learning spiral than a learning curve, hehe. I really needed to learn a few things about building to a black moment and making sure there's enough adversity. I still struggle to throw in enough conflict in early drafts. And I had to learn the craft of avoiding the backstory dump!
When I really started writing seriously I had lots of helpful advice from the Romantic Novelists' Association's New Writers' Scheme. My wonderful reviewer sent me pages of feedback which changed my life. Chop the first 10,000 words she said. So I did!
I've also had to learn a lot about the industry. Even though I've been publishing academic texts for fifteen years that's completely different to selling commercial fiction. I had no clue about pitching to publishers or why it might be a good idea to have an agent! And again, that's where the RNA blog, website, New Writers' Scheme and the summer conference have helped massively!
Do you prefer pen and paper, or is everything on the computer?
I write on my laptop, at home, in total silence. That's it. I'm useless anywhere else or with anything else.
Who's your favourite author and why?
I love Jenny Colgan. I've read almost all of her novels, and am saving her earliest ones for rainy days when I really need one. She has given me lots of comfort and warm fuzzy feels over the years. I just love her consistency and her heroes are great. Her Rosie Hopkins Sweet Shop and Cupcake Café books are just a joy. I've re-read them umpteen times.
What's your favourite book?
My all-time favourite has to be Rebecca by Daphne du Maurier. It gave me chills. Closely followed by her Jamaica Inn and Frenchman's Creek (hot French pirate, anyone?!)
How do you relax?
I listen to podcasts. The Bestseller Experiment is lovely and so informative, I listen to that late at night usually. And I love the Guilty Feminist podcast too.
And now for some silly questions just for fun…
Tea or coffee?
COFFEE!
Beer or wine?
Wine (mainly Friday night prosecco)
Chips or curly fries?
Scottish chip shop chips (drool!)
Puppies or kittens?
Puppies! Amos, my literary support hound, is such a great little friend and de-stresser. I'd be lost without him! Amos isn't even his real name. I thought it'd be funny if he had his own Twitter pseudonym and I got carried away with it all!
Summer or winter?
Winter! I could do without summer to be honest! I'm one of those Christmas lasts two months type of (annoying) people. I read Christmas novels pretty much solidly all year round, and I'm currently writing one!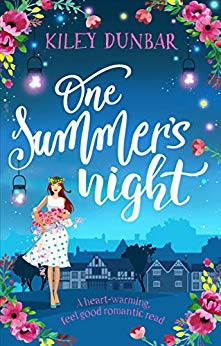 The path of true love never did run smooth…did it?

Kelsey Anderson is stuck in a rut so big, she'll need a 4-wheel drive to get out. She's just been made redundant from her dead-end job, and boyfriend Fran is so busy climbing up the career ladder that he's forgotten how to have fun. She needs to change her life – and fast.
Stumbling across an advert for tour guides in Stratford-Upon-Avon seems like the perfect way to bring the sunshine back. In an impulsive move, she moves from her small Scottish village to Shakespeare's birthplace, armed only with a suitcase and her battered copy of Shakespeare's Sonnets.
Kelsey quickly falls in love with the place, her job as a tourist guide allowing her to explore every inch of the picture-perfect town, from cosy cafes to the picturesque banks of the river.
But it's not just the town that captures her heart, as she finds herself torn between the actors Will and Jonathan who both vie for her affections.
But will beautiful Peony, the lead actress at the Oklahoma theatre company where Jonathan is playing Oberon in A Midsummer's Night's Dream, play a role in keeping Kelsey and Jonathan apart?
Or will flirtatious, charming Will, the fellow tour guide who has set his sights on Kelsey, keep the star-crossed lovers from finding their happy ending?
A gorgeously uplifting, feel good romance that will captivate readers of Holly Martin, Cathy Bramley and Milly Johnson.
Kiley Dunbar is a Scottish author of romantic fiction. She lives in England with her husband, two kids and Amos the Bedlington Terrier.

Kiley writes around her work at a University in the North of England where she lectures in English Literature. She is proud to be a member of the Romantic Novelists' Association and a graduate of their New Writers' Scheme.

One Summer's Night is Kiley's first novel (published by Hera Books) and is out on 6 March 2019.

You can find Kiley on Twitter @KileyDunbar
and on the 'Kiley Dunbar Author Book Page' on Facebook.
I loved this interview! Thank you so much, Kiley!
One Summer's Night is available as an ebook for only 99p, and it's also an audiobook and coming out on CD this June.
Kindle https://amzn.to/2MAxFOV
Apple https://apple.co/2sM8y2p
Audible https://goo.gl/wdgZt4