I've got another author interview on the blog today (I know, I'm spoiling you all at the moment!). This week it's fellow HQ DigitalUK author, Jennifer Bohnet and as an extra bonus, her ebook is down to 99p so you'd better get to your copy quick!
Hi Jennifer, welcome to the blog, tell me a bit about you and your latest work.
A Year of Taking Chances is about what happens when two friends make a resolution to change their lives  and find themselves separated by the English Channel. Tina finds herself staying in London as Jodie moves away to the south of France with the man of her dreams. Both have to face setbacks in the coming year  family secrets being uncovered for Jodie and Tina learning once again love is not straight forward.
Describe yourself in 3 words.
Introvert. Loyal. Kind.
What are your top 3 tips for aspiring writers?
Believe in yourself; switch off the internet when you're writing; read, read and read.
Are you a panster or plotter?
I'm a real mixture these days. A germ of an idea will occur, I'll start to think about setting and characters and sketch out what could happen to them. Several of my books have three or four main characters whose lives are connected in some way and I find once I've pantisised (not sure that's a real word!) my way into about the first 10K words I have to start doing things like time lines and plotting otherwise I get into a dreadful muddle.
How do you choose your character names?
Some characters come ready named in my head but others are difficult. I have several baby name books and I also make a note of any different names I find in the papers or in the credits of tv programmes.
Do you ever Google yourself?
Guilty as charged!
What do you do when you get stuck with your writing?
Umm, swear a lot? Walk away for an hour and then come back and do some free writing around the particular problem I'm having. Usually works.
Describe your writing process in 3 words.
Draft. Rewrite. Edit.
Do you prefer pen and paper, or is everything on the computer?
I start off with a pen and a notebook but by the time I'm about 30K into the story I mostly write on the computer.
How do you relax? 
I love having friends over for impromptu lunches, I read a lot and every day we take our rescued collie dog Django for a walk in the countryside that surrounds us here in Brittany.
And now for some silly questions just for fun…
Tea or coffee?
Strong black coffee
Beer or wine?
Champagne!
Chips or curly fries?
Chips
Puppies or kittens?
Love both
Summer or winter?
Winter as it turns into Spring!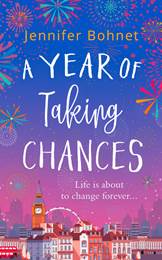 When best friends, Tina and Jodie, make a drunken New Year's Eve vow to change their lives before they hit the big 3 – 0, neither expected to end the year with much more than another hangover…
Twelve months later, Jodie is married and living in Provence – and Tina is exactly where she was a year ago (although now her rent is double). Tina can't help but feel a little bit left behind, but as Jodie reminds her, she's not thirty yet, there's still time to quit her job, start her own literary agency and sign the man of her dreams!
I'm English but I've lived in France for nearly 20 years. After 11 years down on the Cote d'Azur where Richard was a guardien for a villa, we moved from the Mediterranean coast to a small quirky cottage in Finistere, Brittany. A bit of a culture to say the least! Two of my books Rosie's Little Cafe on the Riviera and The Little Kiosk By the Sea have been Amazon bestsellers and in the Top 10 of the Booksellers Heatseekers chart. When I'm not writing I love reading, cooking and having friends around for lunch – lunches that follow the French tradition of lasting for several hours.
Website:  http://www.jenniferbohnet.com/index.html
Amazon link: http://amzn.to/299rvVv
Facebook Author page:  goo.gl/PDKQ8D
Twitter: @jenniewriter
Isn't she just lovely?! So come on, get over to Amazom and buy a copy of her book at the bargain price of 99p (for a limited time only). https://amzn.to/2supPNg