Hi everyone, author interview time again and today I am thrilled to welcome Claire Taylor to the blog!
Tell me a bit about you and your latest work, Claire.
My name is Claire Taylor, I am an author alongside being a care worker and mum to two young boys! I have just completed book 4, which is currently with a publisher being judged (fingers crossed!). I have now gone back to a book that I started a while ago. I had abandoned it, but I've had a renewed love for it, and am rewriting like crazy!
Describe yourself in 3 words.
Musical, annoying, friend!
How would you Twitter pitch your novel?
A woman at rock bottom learns to love by falling in love with herself again.
What are your top 3 tips for aspiring writers?
Don't be afraid to dream, don't be afraid to fail and be prepared to work hard!
Are you a panster or plotter?
A bit of both? I know the main events, the beginning and the end. I write out a detailed character profile. Usually I will pants it from here, but sometimes if I'm hitting a block, I'll go back and do a brief chapter plan which consist of bullet points detailing the main chapter moments.
What does success look like to you?
Completing the book in the first place is an achievement! Seeing my book in print is incredible.
How do you choose your character names?
For male characters I like traditional names, but for female characters I tend to lean towards unusual names. I don't have any particular (or interesting) process, I just sit here staring into space until a name pops into my head that suits my character.
Do you ever Google yourself?
No, never…. Ok sometimes! I never really find anything though! Maybe if I was massively successful I wouldn't, but at the moment there is no chance of finding anything bad because no-one knows who I am!
What do you do when you get stuck with your writing?
Cry and cry and cry… and then I come away from the work, read a good book, and sometimes even work on a different piece of writing – it's even better if that piece isn't something that you're serious about. Usually once I've done this, I can start afresh when I come back to my WIP.
How long does it take you to write a book?
My first three books were novellas and they took a couple of months each to write. The book that I've just finished took about five or six months and it was about 48,000 words, so about twice the length of my first three.
What's your main weakness as a writer eg.SPaG, continuity etc?
My main weakness as a writer is padding it out! Most authors seem to say that they have trouble keeping the book short enough, but I always exhaust the entire story in the first couple of drafts and struggle to get over 40,000.
What do you find hardest/easiest about writing?
Sometimes it's hard to be a writer when you have a full-time job and two kids, even if you do have an incredibly understanding and supportive husband like I do! I feel guilty writing if they are around, so I try to do it when I go to bed, or occasionally get up really early in the morning. So, I'm always tired! With my third book in my novella series, I became bored of my writing because I was struggling to find the time to write it for a while, which was frustrating. But this all levelled out when I changed my shift pattern at work, and I fell in love with it just as I was coming to the end!
Describe your writing process in 3 words.
Dishevelled, dreamy, disorganised.
If your book/one of your books got made into a film, who would play the main roles?
If my novella series, which is a crime/thriller series, was made into a film, the role of Felicity would be played by Olivia Cooke, and the role of Noah would be played by Sam Claflin. Although they may be a little older than the characters, but if I'm honest I can't think of actors or actresses who are the right age! *head in hands* I'm old now!
What's been your biggest learning curve?
Editing is so important!!! Always edit! Whether you are self-publishing as I did with the last two books in the novella series, or submitting to agents or publishers, because it will make you look far more professional. And why would you want your work out there when it isn't the best that it can be anyway? Also planning my characters including their background. Even details that don't seem relevant like favourite food or likes and dislikes. EVERYTHING affects the way that a person reacts to a certain situation so everything is important.
Do you prefer pen and paper, or is everything on the computer?
I mostly use the computer for time and convenience, but I do enjoy using pen and paper sometimes. It feels 'traditional'.
Who's your favourite author and why?
My favourite author at the moment is Cecelia Ahern, I love, love, love her writing.  Stephen King, of course. But J.K Rowling and Enid Blyton will always be favourites of mine. And not to forget Roald Dahl… really the list is endless!
What's your favourite book?
This is a tough one!! I love the book that I'm reading at the moment, which is Lyrebird by Cecelia Ahern. But I also loved On Writing. A memoir of the craft by Stephen King. I had hit a bit of a slump after finishing my most recent book, and I read this and it gave me a whole new perspective on writing. Also Where The Light Gets In by Lucy Dillon is beautiful. Oh, and One Hundred Names by Cecelia Ahern… anything by Enid Blyton reminds me of my childhood. And Harry Potter, every single one!!! This is going well… !
How do you relax?
I'm sorry, relax? Just kidding, when I get the chance to relax I usually read or sing if nobody else is around! I love to watch a good film or series too. My perfect evening is one where my husband and I have fed the kids, put them into bed, and then we have a nice meal whilst watching a horror or thriller film or series. Or sometimes a comedy.
And now for some silly questions just for fun…
Tea or coffee?
Coffee
Beer or wine?
Beer if it's a shandy, otherwise rose wine.
Chips or curly fries?
Chips.
Puppies or kittens?
Both adorable, but puppies.
Summer or winter?
Spring?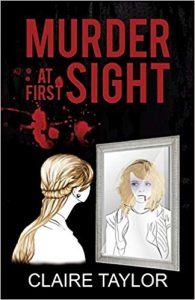 1) Murder At First Sight – Woken by the horrific image of a young girl being killed, Felicity Lawrence puts it down to nothing but a terrible nightmare. But when the body of the same girl is found a week later, Felicity feels she has no choice but to contact the police. Although initially sceptical, police officer Noah Bennett trusts his instincts and hears Felicity out. Before long, they are caught in a dangerous game of cat and mouse with a sadistic killer whoâll stop at nothing to satisfy his bloodlust.
2) Gone – Felicity Lawrence is still recovering from the start of summer – a summer of murder, terrifying visions and failed romance. Just as she feels she is getting back to normal, she has another vision, and a young girl disappears. Can she, Ella and Noah catch another killer, or will new arrivals, unfinished business and impending university get in the way.
3) Winters Kill – Felicity has finally made it to university. With Christmas coming, and new friends being made, she is looking forward to a fresh start after the summer that she survived. But when she returns from a party one evening to a grisly discovery, it's clear that not only is she stumbling across murder, but it's looking for her. Can she find the killer before they take their final victim, and what will she do when she realises who the final victim is?
Claire Taylor and her husband have two young sons; Oscar, two, and Lucas, one. Writing seems to take twice as long when they are around. She currently lives in Essex, working full time for a finance company, but she dreams of sitting on a balcony in Devon, writing a masterpiece.
Claire's novella's can be found on Amazon here: