You may not know this about me, but I love a Regency romance, so I'm really excited to welcome Arabella Sheen to my blog today to chat about all things books and writing!
Hi Arabella and welcome!
Hello Katie, Thank you for having me on your blog today. It was lovely to connect with you through the Romantic Novelists' Association and as an author, I feel privileged to be a member of such a wonderfully supportive group of people.
And now for the challenging part of this blogspot…you've set me some tough questions to answer. Here we go…
Tell me a bit about you and your latest work.
I was fortunate enough to have been born and raised in Clifton, it's a district in Bristol, England, where I grew up surrounded by beautiful classical Georgian architecture. The romance of the Regency era has always held a fascination for me and my imagination runs riot whenever I think about what could have happened in some of the buildings I walk past on a daily basis.
But it was while travelling to Lacock, a historical village in the heart of Wiltshire, England, (where Cranford, Pride and Prejudice, Downton Abby, not to mention Harry Potter, were filmed), that the urge to write Westbury evolved.
Westbury is a light hearted, traditional Regency romance, set in the rural village of Avebury and fast-paced London. A runaway ward, a shooting at mid-night, and a visit to fashionable Almack's, are only a few of the adventures Georgina (the heroine) enjoys whilst falling for the Corinthian charms of a Duke.
Describe yourself in 3 words.
Physically― Chunky
Emotionally―A softy
Academically―Always and forever a learner:
How would you Twitter pitch your novel?
Perfect for fans of Pride and Prejudice.
Westbury– Ballrooms, Cotillions and Almack's…has adventure, intrigue, discord, and most importantly, love.
What are your top 3 tips for aspiring writers?
Write – practice makes perfect.
Enjoy what you are writing because if you don't love what you have written…neither will your readers.
Read. Read on the bus, read in the train, read wherever and whenever you can. Writing styles and book trends change. Stay current.
What does success look like to you?
Being able to grow at least three courgette (zucchini's) plant's from a pack of ten seeds without the slugs and ants eating them.
But success in the writing world…
Someone once told me it took them twenty years to be an overnight No1 #bestselling author…I'm working on it.
As long as my readers are happy, I count that as success.
Do you ever Google yourself?
No… One moment and I'll be right back. J
I'm not on Wikipedia's who's who list of authors…yet!
What's your main weakness as a writer eg.SPaG, continuity etc?
My main weakness as a writer is…Marketing!!! But as an author marketing something that has to be done if you want to get your book "out there".
Marketing takes me away from the time I have to write and I dislike having to promote myself and my books into the spot light.
My life is never front row seats…it has always been back row, upper circle. But things can change. Perhaps someday I'll enjoy the marketing aspect of a writing career.
What do you find hardest/easiest about writing?
1) For me, the easiest thing is: Finding a hero that I can fall in love with and a heroine that can love him too.
2) For me, the hardest thing is: finding the right moment for the perfect ending. Usually, I never want my stories to end…
What's been your biggest learning curve?
Working with my publisher/editor and discovering I still have so much to learn about writing books and the book world.
Do you prefer pen and paper, or is everything on the computer?
A hot drink to the left, note pad and pen to the right, and the laptop (and attention seeking cat) in the middle.
And now for some silly questions just for fun…
Tea or coffee?
Strange as it may seem – neither. I'm a "pure water" type of gal ― if possible boiled, then cooled, but still hot.
Beer or wine?
Neither. If we're out at the local watering hole, then it's a soft drink. Elderflower or orange juice. No ice.
Chips or curly fries?
What's the difference? They are both potatoes, covered in oil…and delicious.
Puppies or kittens?
Actually, I've never been given the responsibility of looking after a dog, so I can't really make a comparison. I only know…I'm manipulated, controlled, and out manoeuvred by a cat who knows exactly when she wants to be fed and what she likes to eat. Especially at 5:30 in the morning.
Summer or winter?
Winter – Pullovers – warm radiators – hot chocolate…
Umm, maybe I'll change that answer to summer; as long as it's not too hot in the shade.
Thank you for having me as a guest on your blog page: Live. Read. Write., Katie.
You've asked some difficult questions but they have been fun to answer. I hope your readers have learnt a little bit more about me and what holds my interest.
Arabella Sheen
arabellasheen.co.uk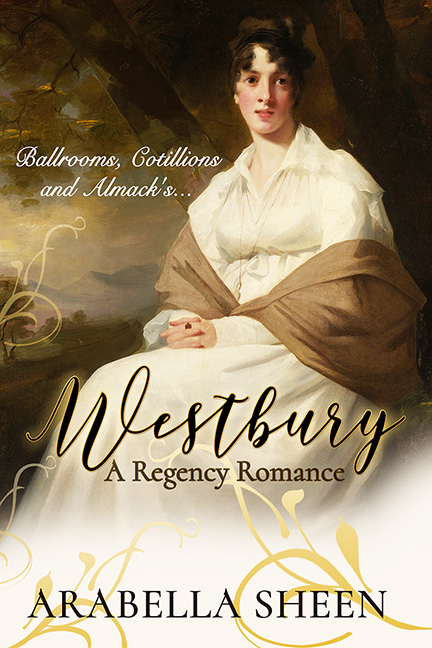 Can Miss Georgina Morton surrender her independence and accept the Duke's love?
Miss Georgina Morton, at the age of four-and-twenty, with a modest annual income of four hundred pounds, believes she has no need of a husband and can manage quite nicely without one. Yet within a matter of weeks, she's betrothed to Giles Glentworth, the Sixth Duke of Westbury, and bound for Regency London.
Set in rural Wiltshire and elegant, fast-paced London…a runaway ward, a shooting at mid-night, and a visit to fashionable Almack's, are only a few of the adventures Georgina enjoys while falling for the Corinthian charms of the Duke.
Arabella Sheen is a British author of Contemporary and Regency romance novels.
Born in Mortimer House, a Grade II listed Georgian building in the heart of Clifton Village, Bristol, Arabella believes that having grown up with surroundings and architecture steeped in the historical culture of the 1800's, she was destined to write about a subject she loves deeply, the Regency era.
One of the many things Arabella has a passion for is reading. And when she's not researching or writing about romance, she is either on her allotment sowing and planting with the seasons, or she is curled on the sofa while pandering to the demands of her attention-seeking cat.
Having worked and lived in the city of Amsterdam in the Netherlands for nearly twenty years as a theatre nurse, she now lives in the southwest of England with her family.
Arabella keeps in touch with her readers on:
Website: http://www.arabellasheen.co.uk/
Facebook: https://www.facebook.com/ArabellaSheenAuthor/
Twitter: https://twitter.com/ArabellaSheen
I don't know about you but I can't wait to get settled on the sofa and read Arabella's book! Get your copy here:
Amazon Universal:http://bit.ly/2TAndcI
Smashwords: http://bit.ly/2DbG1Ie
Barnes & Noble – Nook:http://bit.ly/2RHldOb