Today I'm welcoming the very talented Angela Britnell onto the blog!
Hi Angela, tell me a bit about you and your latest work.
The Reader's Digest Condensed version is that I grew up in a small village in Cornwall, left school at 18 and joined the WRNS. At a NATO posting in Denmark I met my American husband who was in the US Navy. We married within a year and will soon celebrate our 36th anniversary! After Richard retired from the Navy we returned to the US to live just outside Nashville, Tennessee. Two of our sons are already married and the third is tying the knot this summer and we have three priceless grandchildren. I return frequently to Cornwall mainly to visit my 91 year old mother but also to eat far too many pasties! My new book 'One Summer in Little Penhaven' will be released on 21 May and is set almost completely in Cornwall. It's the story of how one summer might change two people's lives forever.
Are you a panster or plotter?
Complete panster! I can't plot to save my life. When I first started to write I absorbed all the writing workshops and craft books until they came out of my ears only to discover my ability to write a story disappeared when I thought too hard about it. Now I simply let it come and most of the time it works J
What does success look like to you?
Continuing to find a home for my stories and getting wonderful reviews from readers – especially those who say my books took them out of their regular lives for a much needed break.
How do you choose your character names?
Sometimes they simply come to me as being right but otherwise I might look online at baby name sites or find lists of popular names for the year my character was born. I often name my American characters after looking at the local newspaper. Obituaries sometimes help too!
Do you ever Google yourself?
Haven't we all?!!!!!
What do you do when you get stuck with your writing?
Usually I simply plod on – my theory is it's better to get something down however bad than nothing at all.
How long does it take you to write a book?
That's a hard question to answer because it depends whether it's a full length book or a novella. A full length novel for my main publisher Choc Lit will probably take me around three months to write the first draft. I'll often put it to one side then and start something else, maybe one of the pocket novels I write for DC Thomson with the plan to go back to the longer story later. I find that helps to give me a better perspective about how well it works.
What's your main weakness as a writer eg. SPaG, continuity etc?
The middle part of a story is often a sticking point and I don't think I'm unusual that way. It's a balancing act to move the story forward without reaching the end too soon!
Describe your writing process in 3 words.
Write. Edit. Repeat.
If your book/one of your books got made into a film, who would play the main roles?
In 'One Summer in Little Penhaven' I think Jennifer Garner would capture Samantha well and for the part of the brooding Cornishman Cadan Day there's really no contest because it has to be Aidan Turner. The author always gets to be on the set right?
What's been your biggest learning curve?
The business side of writing. I discovered early on that getting the story down is only the beginning. It's hard to balance promoting your book and connecting with readers with leaving time for the most important thing – writing that next book!
Do you prefer pen and paper, or is everything on the computer?
I'd have to say about 95% on the computer. When I'm editing I might print off a few pages to work on by pen but that's about it.
Who's your favourite author and why?
It's hard to pick only one because I read fairly widely but I do tend to read a lot of mysteries and although there are many authors I really enjoy I'll pick PD James. Her books were so well written and she was a great storyteller.
How do you relax?
I read a lot, volunteer at my local library, enjoy travelling with my husband who's now retired for the 2nd time and love spending time with my family especially spoiling my grandchildren.
And now for some silly questions just for fun…
Tea or coffee?
Definitely tea. I've never been a coffee drinker although I indulge occasionally in a cappuccino. The tea must be PG Tips or another good English breakfast tea with the rare cup of Earl Grey thrown in when I'm feeling reckless!
Beer or wine?
Wine. Preferably white but I'll drink just about anything if forced to J Having said that I do enjoy a glass of Rattler cider or a glass of Proper Job when I'm home in Cornwall.
Chips or curly fries?
I have to choose? Why? Spoilsport! It depends on the meal but if forced I'll pick good English chips, the sort you get from a decent fish and chip shop.
Summer or winter?
Having grown up in Cornwall I don't function well with extreme temperatures – my skin doesn't appreciate too much sun and I hate being too cold also. I much prefer spring or autumn.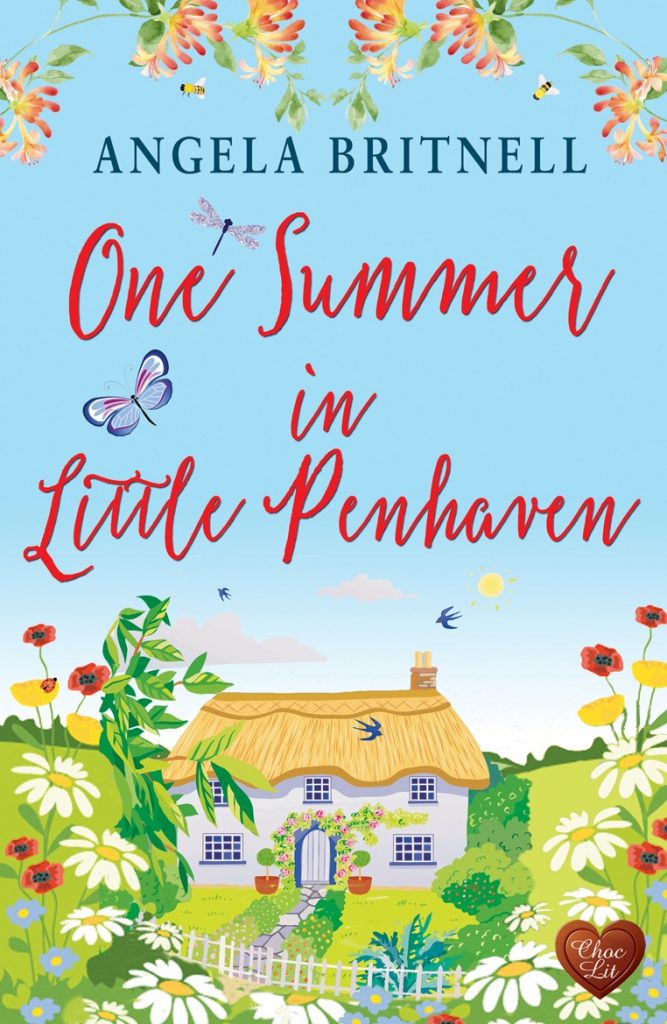 Could one summer change your life?
When high-flying American lawyer Samantha Muir finds out she's lost her partnership whilst on an assignment in London, she has a dramatic reaction.
Rather than returning home, she resigns, leaves her business suits behind and jumps on the first train to Cornwall at the encouragement of a friendly stranger.
The village of Little Penhaven, where Samantha eventually ends up, is a world away from her life in Knoxville, Tennessee – and local farmer Cadan Day is certainly a world away from any man she has met before. But could the Cornish village and Cadan play a part in Samantha's summer of self-discovery?
Angela grew up in Cornwall, England and returns frequently from her new home in Nashville, Tennessee. A lifelong love of reading turned into a passion for writing contemporary romance and her novels are usually set in the many places she's visited or lived on her extensive travels. After more than three decades of marriage to her American husband she's a huge fan of transatlantic romance and always makes sure her characters get their own happy-ever-after. Over the last twelve years she's been multi-published and sold over 25 novels. She also writes short stories for women's magazines. She is a member of the Romantic Novelists' Association, the Romance Writers of America and the Music City Romance Writers.
If you'd like to find out more of what Angela gets up to (Advance warning: this may include references to wine, chocolate, Poldark and the hunky Aidan Turner) check out www.angelabritnellromance.com or follow her on www.facebook.com/angelabritnell , www.twitter.com/angelabritnell and on Instagram as Angela Golley Britnell.
Thanks for joining us, Angela!
I absolutely love the cover of Angela's book. If you do too and you'd like to buy one use the links below:
Amazon UK: https://tinyurl.com/y2qdjcx9
Amazon US: https://tinyurl.com/y66jrrsw