So many HQDigitalUK authors have books out this month! it's fantastic! So today I'm welcoming Amanda Brittany to my crazy blog!
Hi Amanda, firstly, happy publication day! I hope you've got a glass of fizz ready!
Tell me a bit about you and your latest work.
Hi Katie,
Thanks so much for inviting me onto your blog.
I live in Hertfordshire with my husband and two little dogs, and have three sons. I've had many jobs over the years, including HR administrator and school secretary.
I started writing fiction ten years ago, previously publishing a non-fiction local history book. And over the years I have had 200 short stories and articles published globally in magazines and newspapers. I still write short stories, mainly for My Weekly.
HQ Digital/HarperCollins published my debut novel HER LAST LIE in January 2018. All my eBook royalties for that book are being donated to Cancer Research UK in memory of my sister who lost her battle with Cancer in July 2017. The book has so far raised nearly £7000.
TELL THE TRUTH is out on 13th December 2018 in eBook, and will be published in paperback in February 2019.
I'm presently writing my third novel.
TELL THE TRUTH is a psychological thriller set in Finsbury Park, London, and County Sligo, Ireland.
NOW:Rachel's a psychotherapist living and working in Finsbury Park. Her mother suffers from early onset dementia, and her partner of five years has just walked out on her and their daughter. It's as she tries to keep strong that she receives a strange phone call, followed by an odd friend request on Facebook. As more and more strange things happen, she knows she has to set off to Ireland, to find out more about her past.
1987:Laura lives alone in Ireland following the traumatic death of her parents, and her hurtful break up with Jude, who let her down knowing she's carrying his child. She is isolated in her parents' huge house that backs onto a wood and lake, so befriends Dillon – a young lad who lives at Lough End Farmhouse at the other end of the wood. But the more and more she learns about his family, the more concerned she becomes.
Describe yourself in 3 words.
Kind. Determined. Flaky
What are your top 3 tips for aspiring writers?
Embrace social media – it's hard at first (or it was for me) but it gets easier
Accept constructive criticism
Sign up for a creative writing course
Are you a panster or plotter?
A bit of both, I think. I do plan my novels – but sometimes the characters take me off in another direction as I write. However, I don't always listen to them, as they can distract me from the course I'm on!
How do you choose your character names?
I try hard not to use names of people I know well for main characters, although I do use friends' names for minor characters sometimes. I often look on websites for common names of babies around the time my characters were born, and often one will jump out at me and seem perfect. With TELL THE TRUTH, I went on on Irish names websites to find Dillon, Bridie, and Caitlin – the children who live at Lough End Farm.
Do you ever Google yourself?
Yes. It's too tempting not to. But, I am a bit on edge when I do it, for fear I'll find a rotten review tucked away somewhere.
What do you do when you get stuck with your writing?
Go for a walk.
Do something different.
Brainstorm with anyone who will listen – I have some lovely writer friends who are happy to help me through any blocks, and my sons often come up with great ideas to get me motivated.
How long does it take you to write a book?
It varies – but I think with my head down, 4-6 months. However, it wasn't always like, my first novel (which is still on my hard-drive, probably covered in cobwebs) took me two years +!
What do you find hardest/easiest about writing?
Deciding the book is finished and ready to leave the building. I could go on editing forever!
Describe your writing process in 3 words.
Get up early
Drink lots of tea
Write – trying to remember to take breaks and eat something healthy. (I eat far too much chocolate)
Do you prefer pen and paper, or is everything on the computer?
I jot things down in notebooks – or scraps of paper – but mainly computer
What's your favourite book?
There are so many! But ONE DAY by David Nicholls ranks very highly – as it was the first book to make me cry in a public place.
How do you relax?
Reading, binge watching Netflix, walking. (I keep promising myself I'll start Yoga!)
And now for some silly questions just for fun…
Tea or coffee?
Tea
Beer or wine?
ProsceccoJ
Chips or curly fries?
Chips
Puppies or kittens?
Both
Summer or winter?
Summer – although I love Christmas!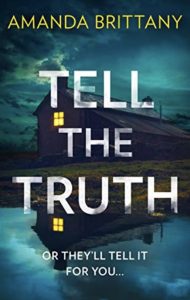 TELL THE TRUTH
Or they'll tell it for you…
Rachel's childhood is a mess of fragmented memories, and her adult life is no less chaotic.
Her mother and daughter were her only concrete links to the past and now they are slipping through her fingers. Fuelled by the fear of losing them both, she delves into her mother's past, fast becoming entangled in her own tragic history.
With eerie friend requests filling Rachel's phone and shocking flashbacks filling her mind, she is plagued by her mother's past, and soon realises that her entire life might just be a lie.
Will she ever discover the truth?
From the bestselling author of HER LAST LIE comes a chilling new thriller you won't want to miss! It will have you questioning your own relationships and doubting if everyone in your life is who they say they are.
Perfect for fans of The Girl on the Train and He Said / She Said.
Amanda Brittany lives in Hertfordshire with her husband and two dogs. When she's not writing, she loves spending time with family, travelling, walking, reading & sunny days.
Her debut novel HER LAST LIE reached the Kindle top 100 in the US and Australia and was a #1 Bestseller in the UK. All her eBook royalties for HER LAST LIE are being donated to Cancer Research UK, in memory of her sister who lost her battle with cancer in July 2017. It has so far raised almost £7,000
Her second novel TELL THE TRUTH is due to be published in December 2018 by HQ Digital/HarperCollins, and is available to pre-order now.
She is presently writing her third novel.
Website: www.amandabrittany.co.uk
You can follow her on:
Twitter @amandajbrittany
Facebook www.facebook.com/amandabrittany2
Instagram @amanda_brittany_author
Get it now! https://amzn.to/2OS6mis