Today my author interview is with the fab Julian Slatcher, author of the DS Pete Gayle series. Tell me a bit about you and your latest work, Julian.
My latest published novel is No Going Back, book four in the DS Pete Gayle crime thriller series set in Exeter. I started off writing fiction as a teenager, first got published in non-fiction, as a gardening writer, and was working on a thriller when it was suggested I try writing crime fiction. As qualifications for it, I had a great-uncle who was a chief inspector in Coventry, back in the day and I went out with a girl whose father was a superintendent in Thames Valley. My late first wife also worked for the police in a civilian capacity, as does her best friend, whose husband is a retired traffic cop. Through them, I have got to know several police officers over the years. I have also known a couple of coroner's officers and a magistrate through my own work in pathology, which has included attendance at and even photography of the odd post-mortem.
How would you Twitter pitch your novel?
No idea – I don't do Twitter. I do Facebook and I have a web-page for Jack Slater.
What are your top 3 tips for aspiring writers?
Research.
Maintain credibility at all costs.
Persist against the put-downs and disappointments that you will inevitably get.
Are you a panster or plotter?
Pantser. I've tried plotting but it takes the fun out of writing for me. The only exception, to some extent, is historical fiction because you have real event to fit your story around.
What does success look like to you?
Making a living from writing. I'm about a third of the way there.
How do you choose your character names?
They come from all over the place. Some from friends, family and ancestors, others to suit the character types. Pete Gayle was a combination of the best man at my first wedding with the editor who suggested I write crime fiction. Dick Feeney was a former Thames Valley police officer who tragically died of lymphoma several years ago but had a wicked sense of humour, even to the last. Dan Griffin in the thriller I was writing when the idea to do crime fiction came about was a combination of my wife's nephew and an old man who taught me to fish many years ago. And his wife Wendy was named for a work colleague in Birmingham – and she knows it!
Do you ever Google yourself?
No. My wife looks me up on Amazon and Kobo to see how the sales are going, but no more than that.
What do you do when you get stuck with your writing?
Let it stew. I also tried using Tarot cards when I got stuck on one of my historical adventures. It worked quite well.
How long does it take you to write a book?
It varies. One historical adventure took me 18 months. The current crime thrillers take about 3 months.
What's your main weakness as a writer eg.SPaG, continuity etc?
Being overly wordy. I have to keep a close eye on that and pare things down when editing.
What do you find hardest/easiest about writing?
Marketing.
Describe your writing process in 3 words.
Relaxed in bed.
What's been your biggest learning curve?
To tighten, tighten, tighten my first draft until not a single word is wasted. And to find your own voice. Don't try to write like anyone else. You're not them. You're you and it's you that people – hopefully – want to read.
Do you prefer pen and paper, or is everything on the computer?
I work directly onto a computer, only because my writing is awful.
Who's your favourite author and why?
At the moment, Angela Marsons. Great characters, tight plotting and a readable style. I also really like Marnie Riches, Angus Wells (who you've probably never heard of, but he wrote under several pen-names) and Wilbur Smith among others.
What's your favourite book?
Clan of the Cave Bear.
How do you relax?
Watch TV. When I have the time, I also like reading, gardening, photography, travelling and genealogy. I've traced most branches of my family tree back to the 1500's, one to 1480 and another into the 1300's.Still struggling with one side of my wife's though. I also do a lot of DIY, hence the lack of time currently – I'm building an extension on the side of our house.
And now for some silly questions just for fun…
Tea or coffee?
Tea.
Beer or wine?
Wine.
Chips or curly fries?
Chips.
Puppies or kittens?
Puppies.
Summer or winter?
Summer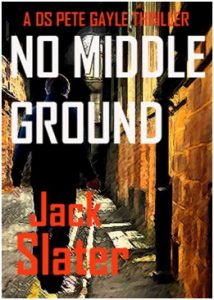 A missing father. A desperate daughter. A terrible discovery.
A new case is the last thing DS Pete Gayle needs right now, but when it falls right into his lap, he has no choice. Justice is crying out to be served. With a career-making trial about to begin and his son in imminent danger from a pair of psychopathic brothers, Pete goes on the hunt in what could turn out to be the biggest case of his life.
Jack Slater
Raised in a farming family in Northamptonshire, England, the author had a varied career before settling in biomedical science. He has worked in farming, forestry, factories and shops as well as spending five years as a service engineer.
Widowed by cancer at 33, he recently remarried in the Channel Islands, where he worked for several months through the summer of 2012.
He has been writing since childhood, in both fiction and non-fiction. No Middle Ground is his fifth crime novel in the DS Peter Gayle mystery series.
Get yours now here: https://amzn.to/2PIZNzg