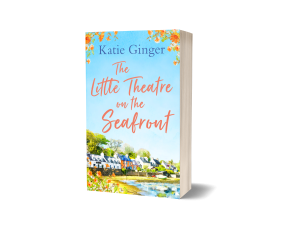 *Shortlisted for the Katie Fforde Debut Romantic Novel Award 2019!*
When Lottie's Gran dies she leaves one last request; save Greenley Theatre.
Faced with a decaying building, a mayor who most definitely isn't on board with the project and a group of actors who just can't get along, Lottie has her hands full, but with best friend Sid by her side she knows she can do it somehow.
But the arrival of Jeremy, a hotshot London developer who sweeps Lottie off her feet, complicates things. Suddenly Sid gets a new girlfriend, the Greenley Players fall apart, and that crumbling building? Well it crumbles a whole lot more. With no one to turn to, Lottie has to find the courage to save the day.
Will Lottie be able to save the theatre and also follow her heart?
In the little town of Greenley-on-Sea, summer has arrived. The turquoise waters of the sea sparkle in the sunlight, and along the beach's promenade holiday-makers spill from ice-cream parlours and vintage shops.
For Sarah, summer brings the chance for a fresh start. As well as playing Miranda in the Greenley Players' production of The Tempest (where she'll get to spend loads of time with her best friends Lottie and Sid) she finally feels ready to find love again after surviving heartbreak. Could her handsome colleague Dr Finn Macdonald be the very man she's looking for?
Famous actor Nate finds himself hiding out in Greenley whilst a potentially career-ruining scandal blows over. But when the Greenley Players get wind of his arrival, they draft him in to help out with their performance – and Nate certainly didn't bank on his instant connection with the beautiful woman in the lead role…
As the temperature rises and the Players' performance draws closer, can Sarah and Nate overcome their pasts and find love again?