Romance is often criticised for being easy to read or uncomplicated, when in reality they are often as complicated and deeply themed as other genres. The difference is the style romance authors write in, which isn't flouncy or flutey, makes them easy to read, but not necessarily easy to write! Most romance novels also deal with quite heavy themes and there's a reason for this. Here's why you should include heart-string tugging story lines in your romance writing too.
Don't forget to sign-up to my mailing list now!
You may not realise it but every romance novel you've ever read will deal with some major issues: break-ups, divorce, death, grief, loss, miscarriage…the list goes on. Though they end in happy ever afters, the journey is often a struggle. But that's life, isn't it?
Romance novels represent life and the good and bad that goes on in it.
You can't have the light without the shade and the reason so many of the best romance novels tackle big issues like illness or death, is because it's something we can all relate too. At the very least, we can empathise with it.
They make the happy moments even happier because we know what the main character has gone through to get there. Having the darker, deeper storylines means we have those moments of darkness to come out of.
If you're worried about including those elements that make you cry writing them, don't! We need that tension, that worry, that fear in order to cheer our characters on and enjoy their perfect ending as much as they do!
Photo by Faye Cornish on Unsplash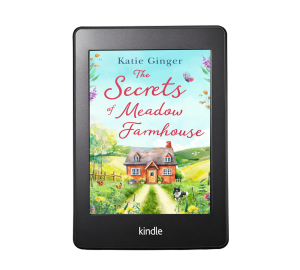 The Secrets of Meadow Farmhouse – my latest read is out now!
Get the ebook for only 99p!
Amelia loves her life in Paris. But with the surprise inheritance of her childhood home, she has no choice but to return to the small village of Meadowbank to restore her great-aunt's old farmhouse. However, returning to Meadowbank means she has to confront her past, including old flame Adam, the one thing she regrets leaving behind.
When Amelia discovers a locket hidden in the farmhouse, containing the picture of a mysterious World War Two soldier, she starts to uncover the secrets of her great-aunt's past.
With Adam on hand to help restore the farmhouse, she's shocked by his generosity after so many years apart. As her feelings for her first love reignite, Amelia is suddenly confused as to where she truly belongs.
Can Amelia finally find where her heart truly calls home?
Don't forget to sign-up to my mailing list all the behind the scenes gossip!