Because I'm missing the sun, I thought I'd do something to bring the summery vibes and what better way than with an awesome giveaway! So for the next two weeks I'm going to be giving away the chance to win a set of my Swallowtail Bay books!
You'll get a signed paperback copy of Spring Tides at Swallowtail Bay, Summer Strawberries at Swallowtail Bay and Winter Wishes at Swallowtail Bay! I might even throw in some chocolate because what good is a giveaway if it doesn't have some chocolate in it!
All you need to do to be in with a chance of winning is sign up to mailing list. Do that between now and midnight on Thursday 22nd July (BST) and I'll pick the winner at random on Friday 23rd July.
You'll also get a FREE short story just for signing up! Just fill in the bits below!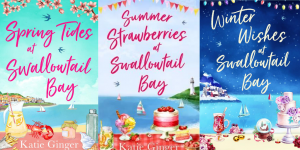 Want to know a bit more about each book first?
Spring Tides at Swallowtail Bay
In Swallowtail Bay the birds are singing, the sun is shining and the locals are welcoming – but Stella's new beginning might be over before it's begun…
Licking her wounds from her divorce, Stella impulsively buys a gift shop and two holiday lets in glorious Swallowtail Bay, hoping for a fresh start with her King Charles Spaniel Frank.
When the neighbours meet her with a warm welcome, Stella knows she's found the new home she was looking for. Even gorgeous but grumpy local Miles can't take the shine off things. But then her ex-husband announces he's getting married again, and someone in the village starts gossiping about Stella…
Is Stella's dream over already? Or, with her new friends behind her, can Stella fight back and save her new life – and find the happy ever after she's been waiting for?
Summer Strawberries at Swallowtail Bay
Hetty Colman loves her life in the cosy seaside town of Swallowtail Bay, organising children's birthdays, anniversaries and retirement parties. But after her recent break up from long-term boyfriend Ben, she's been searching for something new.
So, when Hetty overhears locals wondering how to return the old strawberry festival to its former glory, she jumps at the chance to relaunch it. There are just two problems – she only has four weeks to organise it and absolutely nowhere to host it!
When Hetty manages to convince the aloof, yet extremely handsome, John Thornhill to use the grounds of his rundown manor, things start to look up. But as Hetty and John grow closer and Ben tries to win back her affections, can Hetty make the festival and her love life run smoothly at the same time?
Winter Wishes at Swallowtail Bay
Grab your cosiest jumper and escape to the beautiful Swallowtail Bay!
Christmas and romance are in the air and Nell is obsessed! She can't stop watching her favourite Christmas romcoms and dreaming of the day when she meets her own romantic hero, especially as she is hosting the first ever wedding at her small hotel, Holly Lodge.
Nell's best friend, Tom, has been in love with her ever since they met. But Nell has never seen him that way, and he's always kept his feelings a secret in case it ruins their friendship.
After the opening of the glamorous Langdon Mansion Hotel in the bay, Nell's hotel is struggling for survival and she must fight, with Tom's help, to keep Holly Lodge open. Can the magic of Christmas help two old friends save Holly Lodge and open Nell's eyes to a love that was always there the whole time?
If you like the sound of these then sign up to my mailing list and get your FREE short story as well as being in with a chance to win a signed paperback of each book. Just fill in the bits below!
Good luck to everyone who enters and thank you for joining my list! (I promise I won't send you junk, just a monthly newsletter and any exciting news I have to share.)