Looking for even more reading inspiration? Don't worry, I've got you covered this summer with my pick of ten of the best summer romances to keep you entertained whether you're sunbathing in the garden or somewhere a bit more exotic!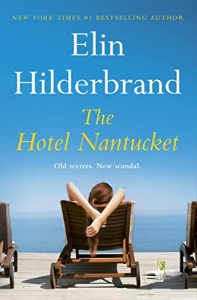 The Hotel Nantucket
Elin Hilderbrand
Escape to Hotel Nantucket for a summer of sunshine, secrets and scandal…
Reeling from a bad break-up, Lizbet Keaton is desperately seeking a fresh start. When she's named the new general manager of the Hotel Nantucket, a Gilded Age gem whose glamour has been left to tarnish, she hopes that her local expertise and charismatic staff can transform the hotel's fortunes – and her own.
All she needs to do is win over their new billionaire owner from London, Xavier Darling – and the wildly popular Instagram influencer, Shelly Carpenter, who can help put them back on the map. But behind the glossy façade, complete with wellness centre and celebrity chef-run restaurant, a perfect storm is brewing.
Hotel Nantucket can't seem to shake off the scandal of 1922, when a tragic fire killed nineteen-year-old chambermaid Grace Hadley – and the guests have complicated pasts of their own. With Grace gleefully haunting the halls, secrets among the staff, and Lizbet's own romantic uncertainty, there's going to be trouble in paradise. . .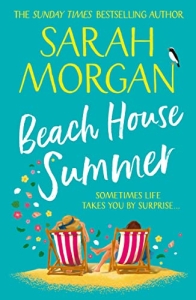 Beach House Summer
Sarah Morgan
A marriage in the spotlight
Joanna Whitman's high-profile marriage held more secrets than she cares to remember, so when her ex-husband dies, she doesn't know what to feel. But when she discovers that he's left behind a pregnant young woman, Joanna is forced to act. She knows exactly how brutal the spotlight on them both will be…unless she can find a way for them to disappear.
A beach house hideaway
Ashley Blake is amazed when Joanna suggests they lie low at her beach house in her sleepy Californian hometown. Joanna should be hating her, not helping her. But alone and pregnant, Ashley needs all the support she can find.
A summer of new beginnings
Joanna's only goal for the summer is privacy. All Ashley wants is space to plan for her and her baby's future. But when an old flame reappears, and secrets spill out under the hot summer sun, this unlikely friendship is put to the test…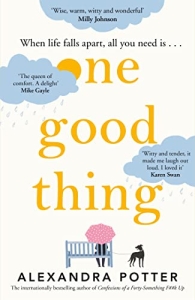 One Good Thing
Alexandra Potter
In life, nothing is certain. Just when you think you have it all figured out, something can happen to change the course of everything . . .
Liv Brooks is still in shock. Newly-divorced and facing an uncertain future, she impulsively swaps her London Life for the sweeping hills of the Yorkshire Dales, determined to make a fresh start. But fresh starts are harder than they look and feeling lost and lonely she decides to adopt Harry, an old dog from the local shelter, to keep her company.
But Liv soon discovers she isn't the only one in need of a new beginning. On their daily walks around the village, they meet Valentine, an old man who suffers from loneliness who sits by the window and Stanley, a little boy who is scared of everyone, hides behind the garden gate and Maya, a teenager who is angry at everyone and everything. But slowly things start to change…
Utterly relatable, hilarious and heart-breakingly honest, this is a novel about friendship, finding happiness and living the life unexpected. And how when everything falls apart, all you need is one good thing to turn your life around and make it worth living again.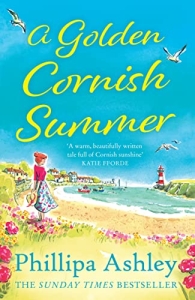 A Golden Cornish Summer
Phillipa Ashley
Under the golden Cornish sun, buried treasure and family secrets will change Emma's life forever…
Emma loved her life in the seaside village of Silver Cove. But when the discovery of sunken treasure ignited a feud between her family and that of Luke, her first love, everything fell apart. Heartbroken and betrayed, she fled.
Now, as she wades into the sparkling surf for the first time in fifteen years, she remembers everything she loved about this beautiful place. Then a huge wave knocks her off her feet. Wet and dripping, Emma is rescued by none other than Luke – who is, to her dismay, even more handsome than ever.
As their paths continue to cross, and Emma is reminded of everything she ran away from, she starts to wonder if returning home was a huge mistake.
Or could the real treasure have been waiting here for her all along?
A heart-warming read full of sun, sea, friendship and romance. Fans of Sarah Morgan and Trisha Ashley will be hooked from the very first page.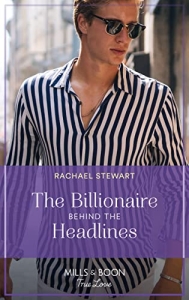 The Billionaire Behind the Headlines
Rachel Stewart
Can the billionaire capture her heart?
In this Claiming the Ferrington Empire story, Bree has escaped the city to heal her heart in a village bakery. And then notorious billionaire Theo walks through the door. The man behind the headlines is charming, but intriguingly cynical about love. Accepting his invitation to Paris might be a mistake—or the best decision she's ever made…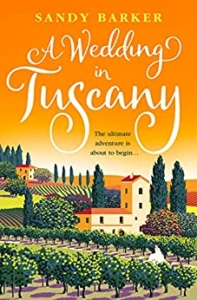 A Wedding in Tuscany
Sandy Barker
Love is in the air . . .
Sarah has everything she ever wished for; she lives with her gorgeous boyfriend and their cat in Sydney and life couldn't be better. If only she wasn't so anxious about turning the big 4 0.
Meanwhile Cat is happily loved-up with Jean-Luc, except she lives in London, and he lives in Paris. She loves their long-distance relationship so why is she worrying about their future.
But a surprise wedding proposal is about to change everything for these sisters. And with all their family and friends gathering at a vineyard in Tuscany to celebrate, love, laughter and mayhem are about to ensue.
Reunite with your favourite characters from The Holiday Romance series as they gather together for love, laughter and a party they'll never forget. Perfect for fans of Jo Thomas and Mandy Baggot.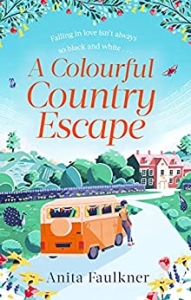 A Colourful Country Escape
Anita Faulkner
FALLING IN LOVE ISN'T ALWAYS SO BLACK AND WHITE . . .
When vibrant but penniless Lexie is dumped by her posh boyfriend who is looking for a more financially suitable match, she decides to pack up her beloved orange campervan Penny in search of a new path. Stumbling upon a vacancy at a family-run paint company in the Cotswolds, Lexie believes she's found her perfect match . . .
Lexie arrives at Nutgrass Hall, home of Carrington Paints, but it seems that owner Benedict Carrington is less than impressed with her arrival, and Lexie realises she'll have her work cut out for her if she's to convince stuffy "Beige Ben" to trust her with rescuing his out-of-touch business. But Ben has more on his mind than just the company – his mother is determined to find him a suitable wife worthy of carrying the Carrington family name, or she'll take the business from him.
As Lexie sets to work on injecting some life colour into Carrington Paints, Ben allows himself to be set up with Tewkesbury's finest ladies. But the more time the pair spend together, the more they realise their feelings for each other aren't so black and white. Will Lexie be able to brighten into Ben's colourless world before it's too late?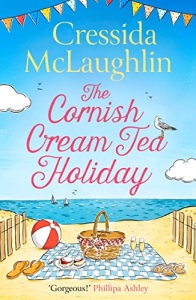 The Cornish Cream Tea Holiday
Cressida McLaughlin
It's going to be an unforgettable Cornish summer…
Thea Rushwood was looking forward to exploring the beautiful Cornish tourist spot of Port Karadow, but when her friend drops out at the last minute, she is forced to go solo. Arriving at her cosy holiday cottage to discover a building site next door, Thea and the annoyingly attractive, but grumpy builder, Ben, don't get off to the best start.
Thea starts to wonder if her perfect escape wasn't meant to be. That's before she realizes there is more to Ben – and to the community – than she first thought. As a magical Cornish summer stretches out in front of her, Thea discovers this is one holiday that she never wants to end…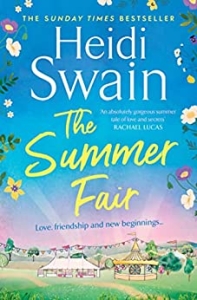 The Summer Fair
Heidi Swain
Beth loves her job working in a care home, looking after its elderly residents, but she doesn't love the cramped and dirty house-share she currently lives in. So, when she gets the opportunity to move to Nightingale Square, sharing a house with the lovely Eli, she jumps at the chance.
The community at Nightingale Square welcomes Beth with open arms, and when she needs help to organise a fundraiser for the care home they rally round. Then she discovers The Arches, a local creative arts centre, has closed and the venture to replace it needs their help too – but this opens old wounds and past secrets for Beth.
Music was always an important part of her life, but now she has closed the door on all that. Will her friends at the care home and the people of Nightingale Square help her find a way to learn to love it once more…?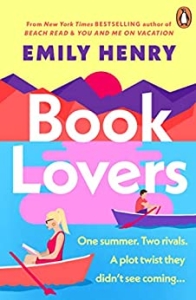 Book Lovers
Emily Henry
Nora is a cut-throat literary agent at the top of her game. Her whole life is books.
Charlie is an editor with a gift for creating bestsellers. And he's Nora's work nemesis.
Nora has been through enough break-ups to know she's the one men date before finding their happy-ever-after. To prevent another dating dud, Nora's sister has persuaded her to swap her city desk for a month's holiday in Sunshine Falls.
It's a small town straight out of a romance novel, but instead of meeting sexy lumberjacks, handsome doctors or cute bartenders, Nora keeps bumping into…Charlie.
She's no heroine. He's no hero. So can they take a page out of an entirely different book?
And don't forget…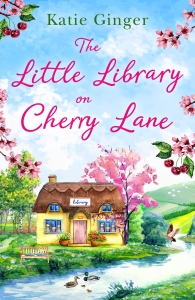 The Little Library on Cherry Lane
Katie Ginger
Elsie Martin may lead a quiet life, but working in her beloved local library is enough to make her happy. After all, books have always been her armour against the world. So when the library is threatened with closure to make way for a new housing development, Elsie knows it has to be saved – and that, despite being painfully shy, she needs to lead the campaign to save it.
Jacob Yardley thinks he's doing the right thing by building a new affordable housing development. Why shouldn't local people be able to buy a house in the place they grew up? Having to leave his own small hometown broke his heart. Plus, people don't really use libraries anymore, do they?
As Elsie and Jacob clash over the future of the library, sparks begin to fly. Jacob is falling back in love with books and libraries – could he possibly be falling for her too? And will Elsie be able to save the library that means so much to her?
Grab your copy now! https://amzn.to/34NsN5W
If you'd like more book recommendations, writing tips and behind the scenes access to cover reveals, excerpts and more, sign up to monthly newsletter here!