Christmas is fast approaching and that means festive fiction overload! Read on for my top Christmas romance reads to enjoy while the lights on the tree are twinkling and the fire is roaring in the grate!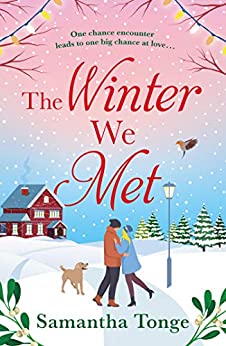 The Winter We Met
Samantha Tonge
When charming, mysterious Nik sits next to Jess on a plane home from a Christmas toy trade fair, she never could have imagined the impact he'd have on her life. As they touch down in London, Jess is hesitant to let Nik walk away, and before she knows it, she's invited him to visit.
As the two take in the delights of the toy store where she works, Jess gets an upsetting phone call. Willow Court, her grandmother's care home, is to close before Christmas. Jess is determined to find the perfect new home for her Gran – and throw the best Christmas party Willow Court has ever seen!
But time is running out with the closure looming and Jess becomes increasingly drawn to enigmatic Nik who joins forces with her and best friend Oliver to realise those plans.
Will a chance encounter on an aeroplane bring love to Jess's life or is this Christmas miracle too good to be true?
I was lucky enough to read an arc of this book and it blew my socks off! The setting was a bit unusual but worked incredibly well and the story was deeply moving. This is an absolute must read this Christmas!
Buylink: https://amzn.to/34tdwVb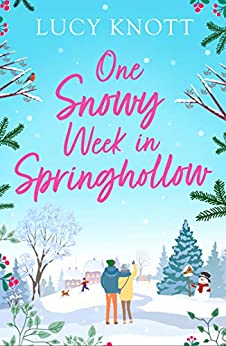 One Snowy Week in Springhollow
Lucy Knott
When old friends return, sparks ignite this Christmas in Springhollow…
Tomboy Scarlett thought Devon would be her best friend forever. He was the only person in Springhollow who supported her ambitious artist dreams. But then one winter, Devon and his parents disappear without warning to start a new life in NYC and a devastated Scarlett is left alone to face her high-school bullies and overbearing mother.
Fast-forward ten years: Scarlett is playing it safe in her childhood village with a dull PA job and a wardrobe that passes her mother's old-fashioned standards. Meanwhile, Devon is a Hollywood heartthrob, starring in the latest superhero blockbuster. And he's finally coming home for Christmas…
Scarlett can't help blaming her former best friend for the way her life has turned out, but Devon's cheeky charm and gorgeous smile prove difficult to resist. Devon always did make her feel on top of the world, but Scarlett knows her heart isn't racing just because she has her friend back – is it mistletoe madness, or is she seeing Devon in a completely new light?
Scarlett hasn't taken a risk in years… but this Christmas of second chances could finally be her time to shine.
You know you're in good hands with Lucy and her storytelling is at it's absolute best here. I loved the plot as soon as I read the blurb and she always gives you characters you're routing for. Another one not to be missed!
Buylink: https://amzn.to/31J9oyV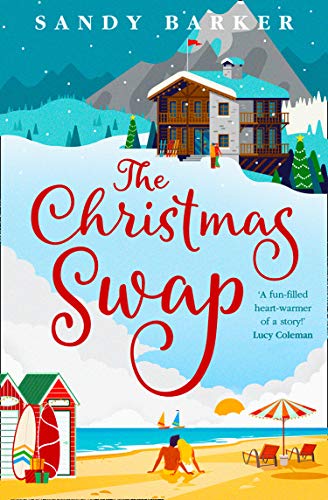 The Christmas Swap
Sandy Barker
Will all three women have their Christmas wishes come true?
Christmas is coming and best friends Chloe, Jules, and Lucy are needing change… so swapping homes for the holidays could be the perfect present for all of them!
Australian Chloe spends her Christmas in a sleepy village in Oxfordshire, England. She is totally star-struck when she discovers who lives across the road.
Lucy, who has jetted off to snowy Colorado for her dream-come-true white Christmas, is taken into the fold of Jules's loud and brash family, discovering more about herself in a few short days than she has in years.
And Jules leaves the cold climes of Colorado to spend her Christmas on a beach with Chloe's friends in Melbourne, finding that time away is just what she needed.
The only thing better than one Christmas romance is three, and this wonderful festive novel is perfect for fans of Sarah Morgan, Holly Martin and Karen Swan.
I absolutely adore Sandy Barker and this is my favourite of her books so far. Each story-line is so beautifully crafted with her usual flair for feisty female characters and some absolutely swoon-worthy heroes. As it says in the blurb the only thing better than one Christmas romance is three!
Buylink: https://amzn.to/2HyYyEg
My final pick for Christmas is this amazing book by Jaimie Admans. I mean, if the cover and all the incredible 5-star ratings didn't have you convinced then the blurb certainly will!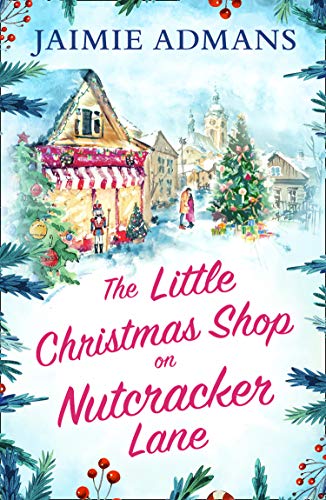 The Little Christmas Shop on Nutcracker Lane
Jaimie Admans
It's the most magical time of year, and anything can happen…
Nia Maddison has always believed that wishes come true on Nutcracker Lane. So, when she gets the opportunity to run her own Christmas gift shop on the most magical street in town, it feels like her wishes have been finally granted.
But working late one night, Nia discovers yet another boyfriend has cheated on her. As she trudges home – alone, again – she passes the (supposedly) magical nutcracker and half-joking thinks a wish can't hurt. Cracking a nut in its mouth, she wishes to find Prince Charming.
The next day Nia gets to work to find another decoration shop has opened directly across the lane from her own, and she can't resist having a nose around.
Whilst there, she accidentally backs into a human-sized Nutcracker, knocking it over and breaking it. Mortified, she flees from the store but when she gathers her resolve to go back and apologise, she stumbles across the gorgeous shop owner James, who looks exactly like Prince Charming…
Could her Christmas wish from the night before really be coming true?
Buylink: https://amzn.to/34zgMid
I'd love to know your recommendations too! Let me know in the comments below what else I should be adding to my TBR list!
Photo by Andreea Radu on Unsplash