I'm so excited today because not only is every publication day extremely special, but it's also publication of my first audiobook!
Sign up to my mailing list now to receive a FREE short story!
The wonderful narrator, Katy Sobey, is absolutely brilliant and captures all the voices so, so well! I'm contemplating listening to it myself because it doesn't feel at all like my book when someone else is reading it. It's totally weird, but wonderful too!
And as for the paperback, it's so gorgeous! Did you see the picture I shared last week? It's SO pretty!
Now, time for a giveaway to celebrate! All you have to do is like my author Facebook Page! Here's the link to it: https://www.facebook.com/KatieGAuthor. Just hop on over and like the page and you'll be entered in for a chance to win this lovely lot below! There's a signed paperback of The Secrets of Meadow Farmhouse, some delicious chocolate and a beautiful notebook and pens!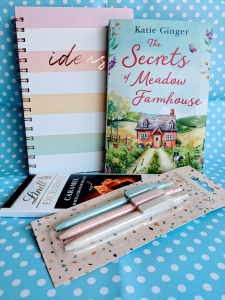 Remember, all you have to do is like my Facebook page! The competition opens today and ends on 21st May at midnight, so don't waste any time, hop on over now! https://www.facebook.com/KatieGAuthor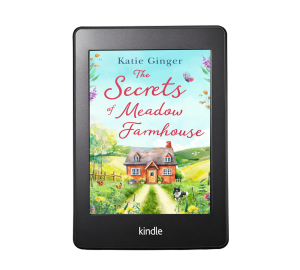 The Secrets of Meadow Farmhouse – my latest read is out now!
Get the ebook for only 99p!
Amelia loves her life in Paris. But with the surprise inheritance of her childhood home, she has no choice but to return to the small village of Meadowbank to restore her great-aunt's old farmhouse. However, returning to Meadowbank means she has to confront her past, including old flame Adam, the one thing she regrets leaving behind.
When Amelia discovers a locket hidden in the farmhouse, containing the picture of a mysterious World War Two soldier, she starts to uncover the secrets of her great-aunt's past.
With Adam on hand to help restore the farmhouse, she's shocked by his generosity after so many years apart. As her feelings for her first love reignite, Amelia is suddenly confused as to where she truly belongs.
Don't forget to sign up to my mailing list for all the behind the scenes action!