Halloween is next week and I love it! We always have a little party with cool Halloween food and go trick or treating. And of course there's messy pumpkin carving and a pumpkin spice latte for me! But this year I thought I'd do something a little different!
As my kids are now old enough to read and write on their own, I decided that we'd have a little Halloween story fun! I've tasked them both over this half term with writing a Halloween inspired story. The only rule is it has to be a full story with a beginning, middle and end, everything else will be purely down to their imaginations!
If you want to do something similar, I would definitely recommend this book from Usborne: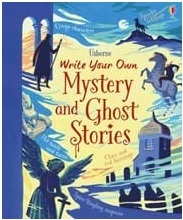 It has great stuff inside to guide and prompt the kids like pages on creating characters, setting atmosphere and helpful words to inspire them!
You can buy the book directly from Usborne here: https://bit.ly/2D9qlZt and it's perfect for any little story tellers!
If you decide to do the same, let me know how you get on!