Once upon a time, twelve women joined the hottest reality TV show looking for love. Except one had a secret identity . . .
Abby Jones is a serious writer. Or at least she will be, one day. Right now, she spends her time writing recaps of reality television under a secret identity.
When a recap for The Stag – the must-watch dating show – goes viral, her editor thinks she should be on set, writing the drama as it happens. The good news: the next season will be filmed in Sydney. Sun, sea and a glamorous trip abroad, this could be Abby's big break.
The bad news: the producers don't just want Abby to write the recaps, they want her to be on the show. Abby can't think of anything worse than being undercover and followed around by cameras. But her career depends on it, and when she meets gorgeous producer Jack, Abby begins to wonder if this job might not be so bad after all . . .
I'm so excited to take part in Sandy's cover reveal for her next romantic comedy, The Dating Game!
First of all, isn't this cover gorgeous! I just love the bright eye-catching blue.
Lucky for me, I was given an advanced copy to read and oh my days, is it good! I won't give too much away, but the plot is original and fun, and the writing, top notch. In fact, I think this is Sandy's best yet!
Make sure you pre-order your copy here: https://amzn.to/3Adaq5L.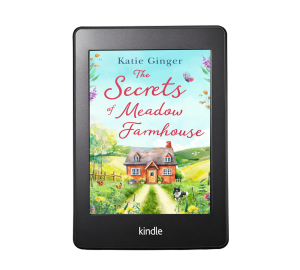 The Secrets of Meadow Farmhouse – my latest read is out now!
Amelia loves her life in Paris. But with the surprise inheritance of her childhood home, she has no choice but to return to the small village of Meadowbank to restore her great-aunt's old farmhouse. However, returning to Meadowbank means she has to confront her past, including old flame Adam, the one thing she regrets leaving behind.
When Amelia discovers a locket hidden in the farmhouse, containing the picture of a mysterious World War Two soldier, she starts to uncover the secrets of her great-aunt's past.
With Adam on hand to help restore the farmhouse, she's shocked by his generosity after so many years apart. As her feelings for her first love reignite, Amelia is suddenly confused as to where she truly belongs.
Can Amelia finally find where her heart truly calls home?
Don't forget to sign up up to my mailing list to receive your free short story, The Dating Game!