I love autumn but books set at this time of year are few and far between. But, because I'm such a huge fan of the season I've curated a list of some fabulous reads you have to look at before we start on Christmas!
If you love reading my blog posts, don't forget to sign up to monthly newsletter!
1. Autumn Dreams at Mermaids Point by Sarah Bennett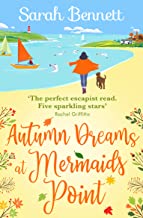 When her dreams of young love were cruelly shattered, Nerissa Morgan found it hard to move on. Now, at forty-three, everyone around her is enjoying life while she's just going through the motions. With her boss retiring and rumours of a new doctor coming in to take over the practice she manages, change is coming, whether she's ready for it or not.
Following the death of his beloved wife, Tom Nelson buried himself in work at his busy inner-London GP practice. When his teenage children find themselves in trouble at school, he realises he's completely lost touch with them. Desperate to reconnect before it's too late, he whisks his family away to the pretty seaside village of Mermaids Point determined to make a fresh start.
But all is not as idyllic as it seems. With his predecessor reluctant to let go of the reins and the children as distant as ever, the last thing Tom needs is an undeniable attraction to the woman he unexpectedly finds himself sharing a roof with…
2. Murder at the Wedding by Helena Dixon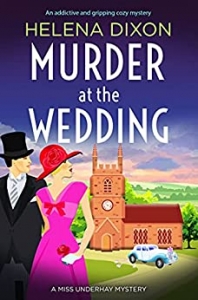 'Till death do us part may come sooner than they thought…
1934
Kitty Underhay steps out of the battered Rolls Royce and onto the gravelled driveway of Thurscomb Castle in deepest Yorkshire.She's honoured to be a bridesmaid at her cousin Lucy's wedding to the reluctant Lord Rupert Woodcomb, but as family and friends gather for welcome drinks, Kitty dodges intrusive questions about her own marital status by taking a stroll about the castle grounds. As she passes through the manicured gardens, a fatal shot rings out…
The valet, Evans, is dead. And Kitty can't help but notice how rattled the man standing next to him seems. Could Rupert's best man, The Right Honourable Alexander 'Sandy' Galsworthy, believe the speeding bullet was meant for him?
When she discovers that Sandy has been receiving blackmail notes, Kitty suspects that one of the assembled guests has plans to make good on their threats. The local constabulary won't act on Kitty's hunch, so, busy with her bridesmaid's duties, she asks her beau, ex-army captain Matthew Bryant, to help.
The ceremony passes without a hitch. But when an anxious Sandy slips away during the dancing, Matt follows, only to make a hideous discovery: Sandy is dead, flattened on the terrace by some falling masonry.
Now the duo are sure that there is a murderer within the castle walls. But can they untangle Sandy's final hours and catch this killer before they strike again, or will the wedding bells be replaced by a death knell for Kitty herself…?
3. The Imperfect Art of Caring by Jessica Ryn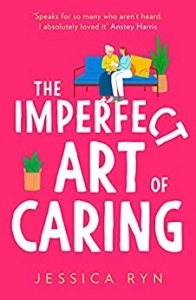 One small act can make a big difference
Violet Strong is strong by name but not by nature, or so she thinks. She listens but never talks about herself. She's friendly but doesn't have many real friends. She's become good at keeping people at a distance ever since she left home at eighteen and never looked back.
But when Violet is forced to return home to care for her estranged mother Glenys, she quickly finds out that life as a carer isn't easy. Feeling overwhelmed, she's forced to turn to the other local carers, including childhood friend Adam, for help. Although returning home still feels like a mistake, maybe it will help Violet right some wrongs. After all, she can't keep running from her past forever, and in learning to look after others, perhaps Violet can start to finally love herself.
4. Murder Now and Then by Faith Martin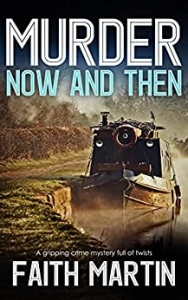 ONE OF THE WORLD'S FAVOURITE DETECTIVES RETURNS.
Former Detective Hillary Greene and her cold case team are taking a fresh look at the unsolved murder of Michael Beck, found bludgeoned over the head and dead in a river near his home in 2012.
Just twenty-two at the time, he'd recently finished a history degree and had his whole life ahead of him. Everyone said he was a pleasant sort of lad with a passion for the past, quietly living with his parents until he could afford a place of his own. But it quickly turned out that there were at least two people who might have wanted him dead.
The first, his recently-jilted girlfriend Mia de Salle, hadn't taken the break-up well. The second, his former tutor Dr Timothy Durning, had been accused of sexual harassment by Michael. But the original team could find no forensic evidence linking either of their prime suspects to the crime, nor witnesses placing them in the area when Michael was killed.
Hillary, however, is determined to find fresh leads. But while she and her team get to work, in the city of Oxford two men from the city's criminal underbelly have been viciously murdered in the last six months.
Are the recent murders and her own cold case linked? More than a decade later, has the same killer struck again? And if so, what's the connection between the mild-mannered young man and the underworld criminals?
It's up to Hillary to stop a killer getting away with murder — both now and then.
And because I am such a huge Faith Martin fan, here's another must-read from her!
5. A Fatal Night by Faith Martin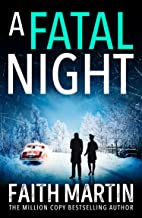 New Year's Eve, 1962
As a snowstorm rages outside, Oxford high society gathers to ring in the new year at the city's most exclusive party. This is a soiree no one will forget… not least because a guest is found dead in his car the next morning.
It seems the young man tragically froze to death overnight after crashing into a snowdrift – but when WPC Trudy Loveday and coroner Clement Ryder are called in to investigate, they discover a tangled web of secrets that plainly points to murder.
With everyone telling different stories about that fateful night, only one thing is clear: several people had reason to want the victim dead.
And if Trudy and Clement don't find the cracks in each lie, the killer will get away with the perfect crime…
6. The Party Crasher by Sophie Kinsella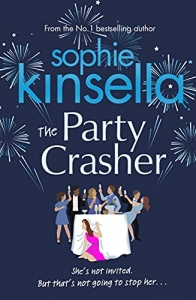 The Talbots are having one last party at their family home.
But Effie hasn't been invited . . .
Effie's still not over her parents splitting up a year ago. Her dad and his new girlfriend are posting their PDAs all over Instagram – and no one should have to deal with photos of their dad with the hashtags #viagraworks and #sexinyoursixties. Now they're selling the beloved family home and holding a 'house-cooling' party. When Effie receives only a last-minute 'anti-invitation', she decides to give it a miss.
Until she remembers her precious Russian dolls, safely tucked away up a chimney. She'll have to go back for them – but not as a guest. She'll just creep in, grab the dolls and make a swift exit. No one will know she was ever there.
Of course, nothing goes to plan. Not only does Effie bump into her ex-boyfriend (who she's very much not over), she can't find the dolls. And as she secretly clambers around dusty attics, hides under tables and mournfully eyes up the dessert table, she discovers unexpected truths about her family – and even about herself.
With time (and hiding places) running out, Effie starts to wonder if she'd be better off simply crashing the party. Perhaps that's the only way to find out what's really going on with her family…
7. A Little in Love by Florence Keeling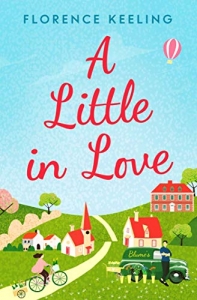 The little village of Weddington is fast becoming THE place to get married. With its stately home, castle and two churches it has something for everyone, and now, famous after appearing in huge romcom movie hit A Little In Love, it's hosting a monthly wedding fayre…
Rose Pedal is the proud owner of Pedals & Prosecco, a brand new business serving ice-cold fizz from a vintage bicycle, and she's excited to be attending her first wedding fayre. But, on the way to Weddington Hall she's involved in a near miss crash involving dashingly handsome James from Blume's Florist.
Arriving at the beautiful stately home drenched and disheveled, Rose is horrified to find James is not only not sorry for nearly knocking her off her bike, but he's gatecrashing her allocated spot on the lawn. His arrogance gets her back up and it's definitely a case of hate at first sight.  But as the wedding fayre season continues, James gently wins Rose over, and their relationship starts to bloom.
Can being just 'a little in love' help Rose and James find their own happy-ending…
Let me know if you read any of these fab books. I'd love to know what you think!
The Perfect Christmas Gift, my new Christmas romcom is available for pre-order now!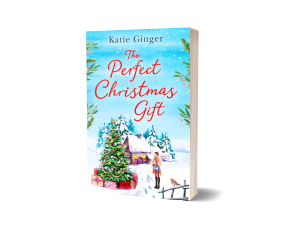 Can neighbours become more than just good friends this Christmas?
Bella Moore is excitedly counting down the days to Christmas. That is until she arrives home one evening to find her boyfriend leaving her for another woman. Completely heartbroken, Bella is left wondering if Christmas can still be the same this year.
Next door, Bella's neighbour Nick is facing his first Christmas as a single dad and doubting whether he can make it the magical time his son Freddie deserves.
Determined to fix both Christmas and their broken hearts, Bella comes up with an idea: a Christmas giving tree for the whole village, where the community can unite and secretly give each other the Christmas presents they truly need.
As Bella becomes chief elf, taking donations and delivering gifts with much-needed help from Nick and Freddie, the two neighbours grow closer and start seeing each other in a whole new light.
But when Nick's estranged wife returns just before Christmas, is their budding romance over before it's begun? Or will love be Nick and Bella's perfect gift this Christmas?
A heart-warming hug in a novel – this is the romcom you want to curl up with this Christmas! Perfect for fans of Heidi Swain, Trisha Ashley and Sarah Morgan.
Pre-order your copy now! https://amzn.to/3ko54gX
I'll be sharing an exclusive peak at the first chapter of The Perfect Christmas Gift soon. Make sure you sign up to my mailing list and you'll also get a FREE short story!