Today on the blog I'm welcoming the amazing crime writer, Paula Williams who writes one one of my favourite genres – cosy crime!
Hi Paula, can you tell me a bit about you and your latest work?
I have just finished the second in my Much Winchmoor series of crime novels, set in a small Somerset (UK) village not unlike the one I live in. I also write a monthly column called Ideas Store for the UK magazine Writers' Forum.
Describe yourself in 3 words.
Hmm. I find these questions so hard! As a writer, I would say I am persistent, ambitious and always learning.
How would you Twitter pitch your novel? 
Murder Served Cold, the first in a series of cosy crimes set in a lovely rural location, is spiked with humour and sprinkled with romance.
What are your top 3 tips for aspiring writers?
Write every day.
Read every day.
Never, ever, ever give up!
Are you a panster or plotter?
I'm a bit of both.  I always start off with every intention of plotting it all out so carefully but before I am very far into the planning process, I get so excited and have to start writing. When I started writing Murder Served Cold, I had no idea who the murderer was going to be until I was well over half way through the first draft.
What does success look like to you?
I'd love to see my books in the best sellers lists, of course I would. But, do you know, I think the thing that would please me more than anything would be to see a stranger reading my book and laughing (in the right places, obviously!).
Before I turned to writing novels, I was a short story writer for women's magazines. A writer doesn't get much feedback from that but one of the stories I'd written was about a woman coming to terms with widowhood and a reader took the trouble to write to the magazine to say how it had helped her come to terms with her own bereavement. That really moved me. You can't put a price on that sort of success, can you?
How do you choose your character names?
I agonise over them!  And if I don't get the right one, they let me know.
Do you ever Google yourself?
I certainly used to but gave up because with a surname like mine, I had to scroll through about 15 pages before I found one that was me. There is also something seriously creepy about finding obituaries with your own name on!
What do you do when you get stuck with your writing?
It depends. If it's at the planning stage, I'll get out paper and notebook and do my own weird version of a mind map. If I'm stuck at the writing stage, then I will move away from the laptop and start writing, very slowly and deliberately, by hand. That usually works.
How long does it take you to write a book?
My first full length novel, Murder Served Cold, was written over many years while I fiddled around with it. But the second was written in just six months.
What's your main weakness as a writer eg. SPaG, continuity etc?
One thing that came up when I was working with my editor was the overuse of capital letters. And exclamation marks!! The other thing is that I am very aware I write very long sentences and have to make a huge effort during the second edit to chop them up into manageable lengths.
What do you find hardest/easiest about writing?
The hardest thing about writing is finding enough hours in the day to get all the things that are in my head down on paper. And as for marketing…  the way that eats time is just scary!
The easiest thing about writing is that it is something I have always loved to do. It is the best job in the world and I can't imagine not doing it.
Describe your writing process in 3 words.
As a writer I am disciplined, consistent and (I hope) professional.
What's been your biggest learning curve?
Marketing! And the book launch which I found terrifying.
Do you prefer pen and paper, or is everything on the computer?
I love writing straight on to the laptop.  I use a program called Scrivener which is quite brilliant and has transformed my working process. But, as I explained above, if I get stuck, I reach for pen and paper.
Who's your favourite author and why?
I have so many but I am going to say Agatha Christie because my mother introduced me to her when I was about 12 and I have been a fan ever since.
What's your favourite book?
I have just finished rereading Jane Eyre for the (I don't know how many) time. I love how I can still get as much out of it now , in fact probably more, than I did when I first read it when I was at school.
How do you relax?
I have a beautiful rescue dog, a Dalmatian called Duke. We've only had him for a year but he has brought such joy into our lives. We have some beautiful walks close to where we live and that is a great way to unwind, particularly if I've been sat at my desk for a long time.
And now for some silly questions just for fun…
Tea or coffee?
Tea! I drink it by the gallon.
Beer or wine?
Neither. I gave up drinking six months ago . I am not a recovering alcoholic or anything like that. I just woke up one morning and decided I didn't want any more hangovers. And it was one of the best decisions I have ever made. It's certainly given me a few more hours in the day.
Chips or curly fries?
Chips. Big fat crispy ones with lots of salt and vinegar. Preferably eaten sat on a bench at West Bay (in Dorset) watching the waves crashing on to the beach. (and on the alert for thieving seagulls)
Puppies or kittens?
Puppies. But, to be honest, I prefer grown up dogs. Particularly rescue ones. I like cats, too and have never thought of it as an either/or thing.
Summer or winter?
Can I say both? I love the changing of the seasons.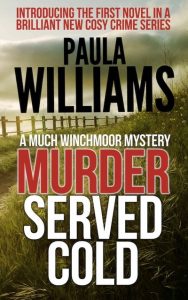 MURDER SERVED COLD.
After her boyfriend runs out on her with the contents of her bank account, Kat Latcham has no choice but to return to the tiny Somerset village of Much Winchmoor, where she grew up. A place, she reckons, that's  not so much sleepy as comatose and she longs for something exciting to happen to lessen the boredom of having to return to live with her parents.
But when she and her childhood friend, Will Manning discover a body and Will's father John is arrested for the murder, Kat suddenly realises she should have heeded the saying" Be careful what you wish for" as she sets out to prove John's innocence.  But before she can do so, there is a second murder and Kat finds herself in danger of becoming victim number three.
Readers of Sue Grafton might enjoy this, the first in the Much Winchmoor series of cosy murder mysteries spiked with humour and sprinkled with romance.
Paula Williams is living her dream. She's written all her life – her earliest efforts involved blackmailing her unfortunate younger brothers into appearing in her plays and pageants. But it's only in recent years that she discovered to her surprise that people with better judgement than her brothers actually liked what she wrote and were prepared to pay her for it.
Now, she writes every day in a lovely, book-lined study in her home in Somerset, where she lives with her husband and a handsome but not always obedient rescue Dalmatian called Duke. She started out writing fiction for women's magazines (and still does) but has recently branched out into longer fiction. She also writes a monthly column, Ideas Store, for the writers' magazines, Writers' Forum.
But, as with the best of dreams, she worries that one day she's going to wake up and find she still has to bully her brothers into reading 'the play what she wrote'.
Paula is also a proud member of both the Romantic Novelists' Association, the Society of Authors and The Crime Writers' Association.
You can follow Paula's blog at paulawilliamswriter.wordpress.com.
https://www.facebook.com/paula.williams.author.
Twitter: @paulawilliams44.
Website: paulawilliamswriter.co.uk
Murder Served Cold is available on Amazon at  https://mybook.to/murderservedcold