Today I'm so excited to have the amazing Mandy Baggot on the blog with her new book One New York Christmas! Was there ever a better feel good Christmas read available? I don't think so!
Tell me a bit about you and your latest work.
I'm Mandy Baggot and I'm an author of romantic fiction. Currently, I write seasonal romantic comedies – from summer escapes to cosy winter reads – all with the feel-good factor and a happy-ever-after! My latest release is One New York Christmas, a love story set in NYC. Can Lara get over heartbreak with the help of up-and-coming actor, Seth, at the most wonderful time of the year?
Describe yourself in 3 words.
Crazy, determined, strong
How would you Twitter pitch your novel?
Need to get over heartbreak? Tweet your favourite celebrity and ask for help. Can Lara's quirky way of dealing with relationship disaster win her a second chance at love in New York this Christmas?
What are your top 3 tips for aspiring writers?
Keep writing and believe in your story and your characters
Read extensively
Don't jump on 'the next big thing'. Write from the heart.
Are you a panster or plotter?
Panster all the way! Halfway through I might write a few notes to tick off on one side of A4 paper… other than that… just nope!
What does success look like to you?
Ooo that's a hard question and I've probably changed my mind throughout my career so far. At the moment success looks like being able to write as a full-time job and being absolutely blown away that my books are published in four other languages and readers in Italy, Czech Republic, Hungary and Germany are loving my stories.
How do you choose your character names?
Ha! Usually, they just come to me in a flash of mad inspiration (no planning, see!). I can't remember ever working too hard to find the right name and once I have a name it's definitely no changing. One of my publishers asked me to change the name of my hero once and I just couldn't do it! It altered the whole tone of the book for me and made me fall out of love with him. They didn't force me! I won! I sometimes consult a baby book – but that's only ever for the names of supporting characters.
Do you ever Google yourself?
I have done it a couple of times – out of interest – but apparently my daughter does it all the time at school and her friends all watch my singing on You Tube and marvel a bit at the fact I'm a writer. Cool for all of five minutes!
What do you do when you get stuck with your writing?
Keep writing. It's the only way. I write through it and hope for the best. Usually, even if you go back and end up deleting a few sections, most of it has worked.
How long does it take you to write a book?
It used to take me six-eight months at the beginning but now, writing two books a year and having harder deadlines, I can write a book in three months.
What's your main weakness as a writer e.g.SPaG, continuity etc?
I overuse the words 'just' and 'almost' quite a lot. The majority of the editor's work is making suggestions for changes on those words and it's so hard! I like those words!
What do you find hardest/easiest about writing?
Time! I never have enough time to write all the ideas I have. I recently bought a book to keep with me I write one-line ideas for books in. Currently there are eleven possible future stories in there! I would love to be able to write more books a year, but I don't have the time and I don't want to compromise on the quality. Writing good books is more important than writing lots of books.
Describe your writing process in 3 words.
Writes one draft
If your book/one of your books got made into a film, who would play the main roles?
Now this is exciting because one of the biggest dreams I have is to see one of my books made into a film. For One New York Christmas I would have to choose Miley Cyrus to play Lara. Lara is a real tom-boy who has been brought up by her dad, with an adopted brother with learning difficulties who she dotes on. I think Miley has all the attributes to nail the role. Don't ask me who I would choose for Seth… that would be much harder to get perfect!
Do you prefer pen and paper, or is everything on the computer?
Most of my writing is done on the computer. I'm a touch-typist so this is the fast, most natural way for me to work. However, I do hand-write on planes and trains etc. I don't tend to take my laptop on holiday, but I am always writing so it's lovely notebooks all the way then!
Who's your favourite author and why?
I don't really have a favourite author as I read so widely but if I had to choose I would say Sophie Kinsella. I can always guarantee a fresh, hilarious read with one of her books.
How do you relax?
What's that?! Seriously though, I like to read, and I also love going to watch live music when I can, in particular, country and rock. Other than that, my absolute happy place for ultimate relaxation is my little Greek house in Corfu!
And now some silly questions just for fun
Tea or coffee?
ARGH! Both!
Beer or wine?
ARGH! Both! Are you sensing a theme?
Chips or curly fries?
Chips!
Puppies or kittens?
Kittens!
Summer or winter?
Summer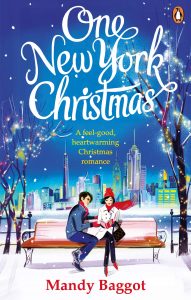 Will this Christmas romance be just for the holidays?
A fun, festive romantic comedy to curl up with this winter. If you love Josie Silver's One Day in December, you'll love Mandy Baggot's heart-melting love story.
Lara Weeks is heading to New York with best friend Susie for the Christmas trip of a lifetime.
A festive break in the snowy Big Apple visiting the tourist hotspots, not to mention the shopping, seems like the perfect way for Lara to get over her ex-boyfriend. Or maybe make him so jealous he begs for a second chance.
Enlisting the help of gorgeous actor, Seth Hunt, doesn't quite go to plan, but there's something about him that has Lara wishing for a different kind of happy ever after…
Mandy Baggot is an international bestselling and award-winning romance writer represented by Tanera Simons of The Darley Anderson Literary, TV and Film Agency.
The winner of the Innovation in Romantic Fiction award at the UK's Festival of Romance, her romantic comedy novel, One Wish in Manhattan, was also shortlisted for the Romantic Novelists' Association Romantic Comedy Novel of the Year award in 2016. Mandy's books have so far been translated into German, Italian, Czech and Hungarian.
Mandy loves the Greek island of Corfu, white wine, country music and handbags. Also a singer, she has taken part in ITV1's Who Dares Sings and The X-Factor.
Mandy is a member of the Romantic Novelists' Association and the Society of Authors and lives near Salisbury, Wiltshire, UK with her husband and two daughters.
Twitter: @mandybaggot https://twitter.com/mandybaggot
Facebook: Mandy Baggot Author https://www.facebook.com/mandybaggotauthor/
Website: http://www.mandybaggot.com
Instagram: @mandybaggot https://www.instagram.com/mandybaggot/
With Christmas heading up fast now is the perfect time to grab your copy of One New York Christmas: https://amzn.to/2CqzWca