As soon as I read the blurb for Lynne Shelby's novel The One That I Want, I knew it had to go on my list and if you ask me, this is a perfect read for over Christmas when you want some time away from the madness! I'm so happy to be chatting to Lynne on the blog today!
Hi Lynne, tell me a bit about you and your latest work.
I write contemporary women's fiction, and my latest novel, The One That I Want, was published earlier this year. Its location is in and around London's Theatreland, which is one of my favourite parts of the city. I love watching shows and plays, especially West End musicals, and while I've never thought about becoming a professional actress – I always wanted to be a writer – I have many friends and relatives who work in the theatre and the film industry, and I find their world fascinating.
I've known for a while that I wanted to write a novel set in the world of showbusiness, but the idea for The One That I Want, came to me when I was in a shop in Piccadilly Circus, and spotted a famous Hollywood actor (he was the lead in a West End play at the time) surrounded by starry-eyed members of the public taking his photo on their phones. It struck me how intrusive it must be to have your every move recorded on camera by total strangers, and from this came the idea for a story about a girl – not an actress used to being in the public eye, but a theatrical agent who works behind the scenes, like many of my friends – who is suddenly thrust into the surreal world of celebrity when she dates an A-List film star.
Describe yourself in 3 words.
Writer. Reader. Traveller.
How would you Twitter pitch your novel?
Will Lucy tame bad-boy, A-List film star Daniel, or is she just one more girl in his long list of conquests?
What are your top 3 tips for aspiring writers?
Try to write every day, even if it's just for five minutes so that the flow of your story stays fresh in your mind – but don't beat yourself up if your other commitments mean that you can't write for a while, as it's important for a writer to build experiences that can inspire their writing.
Don't edit as you go along – get that first draft written. Editing can come later.
Never give up your dream of becoming a published author, because dreams really can come true.
Are you a panster or plotter?
I guess I'm a bit of both. I know how my stories are going to start and I know how they end, but when I begin a new WIP, I usually have very little idea of what is going to takeplace in the middle. I do know my characters really well though, so I introduce my heroine to my hero, and see what happens – hopefully sparks will fly! Fortunately, there comes a point when the characters take over the plot! When I'm about two-thirds of the way through my story, I read it again from the beginning, making notes to keep track of things like which characters appear in which chapter and the timeline. By this stage, I do have a clearer idea of the plot's twists and turns, so I make a brief outline of the rest of the story, to make sure all the plot threads will be tied up by the final chapter.
How do you choose your character names?
I honestly don't know where my characters' names come from – they seem to choose their own names!
What do you do when you get stuck with your writing?
If I find a scene isn't working, I leave it – often until I'm writing the next draft –and start writing the next chapter. Sometimes this is enough for me to realise what I need to do to make the scene I'm stuck on work, but at other times I realise that it simply isn't right for my current WIP, and I need to delete it. I always keep deleted scenes in another file, because they may be right for another story.
How long does it take you to write a book?
It takes me roughly a year to write a book from when I first get the idea for a new story to when I finish editing the final draft.
Do you prefer pen and paper, or is everything on the computer?
I've been writing since I was a child, and as I grew up in an era when not everyone had a manual typewriter let alone a computer, for many years I wrote in longhand on lined paper. It was only when I was working in an office and word-processors were introduced that I changed to typing when I wrote fiction, at first on the family desktop that sat in a corner of the living room, and then on my own laptop. Now I can't imagine writing other than on a laptop and in Word. But I do still carry a notebook everywhere so I can jot down sudden ideas for plots or research notes.
Who's your favourite author and why?
My favourite author is Jane Austen. Her books are exquisite – beautifully written, humorous, satirical and very readable, with wonderful characters that simply leap off the page. Without Miss Austen, we wouldn't have romantic novels as we know them today – she more or less invented the genre. I've re-read her books countless times.
What's your favourite book?
Pride and Prejudice
And nor for some silly questions just for fun…
Tea or coffee?
Coffee – I always drink coffee when I'm writing
Beer or wine?
Wine
Chips or curly fries?
Chips
Puppies or kittens?
Both
Summer or winter?
Summer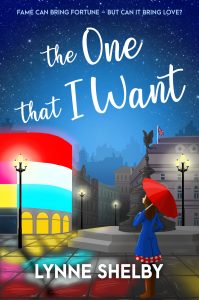 When Lucy Ashford lands a top job at a leading theatrical agency in London, work mixes with pleasure, as she literally falls into the arms of Hollywood heartthrob Daniel Miller. Handsome, charming and irresistible, Daniel is just what unlucky-in-love Lucy needs, and she is quickly drawn into his glittering celebrity lifestyle. But can she tame the A-list bad boy or is she just one more girl in Daniel's long line of conquests? And then there's up-and-coming actor Owen Somers, fiercely talented but as yet uncast in a starring role. After she takes him onto the agency's books, Owen and Lucy's friendship slowly grows. If she looks closely, Lucy's leading man might be right before her very eyes…
Lynne Shelby writes contemporary women's fiction/romance. Her debut novel, 'French Kissing' won the Accent Press and Woman magazine Writing Competition, and her latest novel, 'The One That I Want', is the first in a series of stand-alone books set in the world of showbusiness. When not writing or reading, Lynne can usually be found at the theatre or exploring a foreign city – Paris, New York, Rome, Copenhagen, Seattle, Reykjavik – writer's notebook, camera and sketchbook in hand. She lives in London with her husband, and has three adult children who live nearby.
Author Links:
Website: www.lynneshelby.com
Facebook: www.facebook.com/LynneShelbyWriter
Twitter: @LynneB1
Instagram: lynneshelbywriter
If you loved the sound of The One That I Want as much as I did, you can get your copy here: https://amzn.to/2FLS2ZJ There's still time before Christmas!