Today's guest author is the fab Emily Royal! Hi Emily, welcome to the blog! Tell me a bit about you and your latest work.
Hi Katie, thank you so much for having me! By profession I'm an actuary which is probably as far removed as you can get from being an author. I do get opportunities to be creative at work, though. Last year I co-wrote a scene for a case study and it got turned into a 5-minute film, which was exciting!
I've been writing seriously for about five years. My debut novel will be published by Tirgearron 13 March this year and a second is on the way with Wild Rose Press. Having had a swathe of rejections since I started, 2018 was a wonderful year when I had offers on two books.
I have a passion for historical romances with alpha heroes, especially hot Highlanders, and strong women who stand up to them. My stories are quite dark and the heat level is pretty high. My favourite historical periods are Medieval and Regency.
I live in rural Scotland with my family having moved up here from Sussex nearly 20 years ago. We're big animal lovers and have (or have had) a variety of rescue pets including rats, greyhounds, snakes, hamsters and chickens.
My debut novel is set in the Highlands during the reign of Edward I and the Scottish War of Independence led by William Wallace. It's about Elyssia, an English noblewoman with sympathies to the Scottish cause, who once risked her life to free a Highlander held prisoner in an English garrison and Tavish, a Highland chieftain who has sworn before his clan to avenge his sister's death by abducting the daughter of the Englishman responsible. When Tavish's clansmen ambush the woman and their prisoner is brought before him, he recognises Elyssia, the woman who once saved his life and stirred his heart. He finds himself torn between loyalty to his clan and the debt he owes her.
Describe yourself in 3 words.
Snake-loving INFJ
(Arguably the first two are one word as they're hyphenated. The last one isn't a word but it's a 4-letter acronym which sums up my personality to a T).
How would you Twitter pitch your novel?
Normally a difficult question but I landed my contract via a twitter pitch (#PitDark if anyone is interested) with the following two tweets:
"Send her back with a Highlander bastard in her belly, son." A deathbed wish, a murdered sister, a Clan seeking freedom from English rule, an oath sworn and a woman hiding a terrible secret, willing to sacrifice herself for her loved ones.
He took her captive, she enslaved his heart. Tavish MacLean is a dish best served HOT in this dark medieval romance.
What are your top 3 tips for aspiring writers?
Write what you're passionate about and it will shine through in your words. Don't feel obliged to follow trends or what you think the market wants.
Don't worry about the first draft being perfect; just get it on the page! Don't get too obsessed with accuracy or the finer points of your research when drafting, either. Add a marker to remind yourself to revisit when editing – then crack on with the draft.
Don't hang around waiting to hear from agents and editors after you've submitted to them. Waiting is agony. Waiting sucks. You have no control over when, or if, anyone will respond to your submission. What you do control is if, and when, you write your books. So fill the waiting time with writing the next book.
Are you a panster or plotter?
Plotter all the way! I might draft the occasional scene "off the cuff" if there's some wording buzzing around my head which needs to get down on the page, but I won't start a proper draft until I have the full plot set out in detail.I'll tweak the plot as I go if the story and characters run away with me but if I completely "pantsed it" I'd be terrified of getting 90% through the book then realising the plot sucks!
As well as the plot outline I'll draw a spider diagram showing all the characters and their connections with each other, together with brief notes on appearance. It can get messy given all the connections and sub-plots.
What does success look like to you?
If a complete stranger sent me a message to say they bought my book and loved it. That'dbe writing Nirvana.
How do you choose your character names?
Most of the time they just pop into my head! When I start plotting I have no idea what the names will be but by the time I'm ready to start the draft they're usually sorted out. For secondary characters I'll google baby names and something will jump out at me.
Occasionally I get inspiration from people (or other creatures) I know. In a draft I completed last year, the main character is named after one of my pet snakes. And I have to admit a few years ago I named a villain after someone I loathed and I took great pleasure in killing them off.
Do you ever Google yourself?
Yes, I'll come clean! But I'm tempted to stop once my debut novel is out until I've developed a super-thick skin. I'll ask my husband to check reviews and filter out the stinkers.
What do you do when you get stuck with your writing?
Power through it and the words will come. I think plotting in advance helps. If I'm on a scene that's difficult to write, what keeps me going is the prospect of writing the next scene which will be easier (like eating your greens knowing dessert is up ahead).
How long does it take you to write a book?
It depends on what else I've got on. My latest draft I managed to finish in 3 months though I was editing another novel during that period.
What's your main weakness as a writer eg.SPaG, continuity etc?
I love writing gutsy, dark, emotional stuff and I tend to overdo it and forget to change the pace to include lighter stuff. My critique pals often plead with me to give them a break!I overwrite so I know there will be a lot of repetition and unnecessary garbage in the first draft. A 120,000-word first draft usually ends up weighing in at around 90,000 when I've edited it a few times.
Timelines can be a problem. I have to be very careful not to have winters lasting nine months and pregnancies lasting two.
What do you find hardest/easiest about writing?
I struggle with writing "stage direction". There's only so many words you can use to describe how someone moves from one end of a room to another and I rapidly run out of synonyms.
Describe your writing process in 3 words.
Little and often.
If your book/one of your books got made into a film, who would play the main roles?
I had a lot of fun checking out male actors on the internet for this!Jason Momoa is my default for the Alpha Male but Gerard Butler fits the look of my hero quite well. I'd love Emilie De Ravinto play the heroine.
What's been your biggest learning curve?
Finding my own voice and style. It took about four books  to get there, which means I'll need to rewrite all my older drafts before submitting them.
And there's the business side of being an author. As I'm just starting out in terms of getting published, I'm currently sitting at the bottom of what looks like a vertical learning curve of marketing.
Do you prefer pen and paper, or is everything on the computer?
My initial plotting and character profiles are done on pen and paper but everything else is on the computer. Being paranoid and a little bit obsessive-compulsive, I have multiple backups including printouts of finished work.
Who's your favourite author and why?
It may be a cliché but I love Jane Austen's writing. Her observations on society were so sharp and there's a lot of subtext; each time I re-read one of her novels I spot something else. I've lost count of the number of times I've read Persuasion.
What's your favourite book?
Not very PC and not very well known but I love The Silver Devil by Teresa Denys. It's out of print but I managed to get a second-hand copy. It's not very PC as it's a bit of a bodice-ripper from the era of bodice rippers and the hero is a horrible person. But it's very well written and the imagery is so vivid.
How do you relax?
I play the piano and, unsurprisingly, love the romantic composers. Chopin is very cathartic when you've had yet another literary rejection. If I'm not feeling overly lazy I'll go for long walks which are great at clearing your head and mulling over plots. I also love to paint sunsets and mountain scenes.
…and most of the time I've got one of my snakes round my neck which helps me relax. Love a bit of pet therapy!
And now for some silly questions just for fun…
Tea or coffee?
Tea – but if there's no Earl Grey available I'll have coffee.
Beer or wine?
Beer – but could I have gin instead?
Chips or curly fries?
Chips, nice and greasy, covered in vinegar
Puppies or kittens?
Puppies (but I'd prefer snake hatchlings)
Summer or winter?
Winter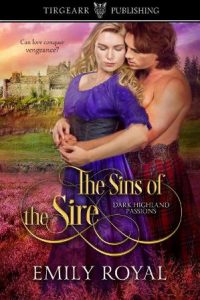 Two years ago, English noblewoman, Elyssia De Montford, risked her life to free the Highlander held prisoner by her sadistic fiancé. She cannot forget the man who first stirred her heart–a memory that burns anew when she finds herself once more on the road to Scotland.
Tavish MacLean has sworn vengeance. It's been six years since his beloved sister was raped and murdered by an English lord, a tragedy which almost destroyed his family. On his deathbed, his father demanded retribution and Tavish pledged before his clan to enslave the lord's daughter then send her back to her father, pregnant with a Scottish bastard. When he learns that she is travelling north, he seizes his opportunity and orders her abduction.
But when his men fling the prisoner before him, Tavish recognises Elyssia, the woman who once saved his life. Loyalty to his clan trumps the debt he owes her and he claims Elyssia as his captive. Though she's one of the hated English, her willing body ignites passion in him at night, though she fights him at every turn during the day. As time passes, he questions his loyalty, finding himself increasingly enthralled by his fiery captive.
Treachery surrounds Clan MacLean. When long-buried secrets come to light, Tavish must risk his life and his clan, or all that he holds dear will be destroyed.
Emily Royal is a mathematics geek who grew up in Sussex, UK and has always had a passion for romance and strong alpha heroes. After graduating from Oxford and enjoying a brief dream of becoming an airline pilot, she started a career in financial services in order to indulge her love of mathematics.
She now lives in rural Scotland with her husband, two daughters, and a menagerie of pets including Twinkle, an attention-seeking boa constrictor. She reignited her passion for romance when she joined the Romantic Novelists' Association under their New Writers' Scheme.
When not working on algebra or writing, Emily enjoys cooking, painting, target sports, and playing the piano. She can often be found wandering about the hills of Scotland looking for inspiration.
I don't know about you but I am loving the sound of this novel! You can buy your copy here:
Amazon UK:  https://www.amazon.co.uk/dp/B07N974NW5/
Amazon US:  https://www.amazon.com/dp/B07N974NW5/
Thanks so much for joining us Emily and happy publication day for yesterday!