I'm absolutely delighted to be on the blog tour for A Colourful Country Escape by the wonderful, kind and fabulous Anita Faulkner!
Not only is her debut novel an absolute cracker (honestly, I was compeltely blown away by her unique voice and funny, fierce characters) but she's such a supportive member of the bookish community it is an absolute pleasure to see her debut novel brought to life with a brilliant publisher.
Let me tell you more…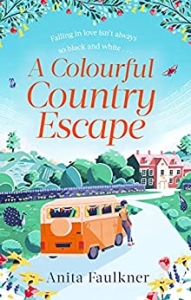 FALLING IN LOVE ISN'T ALWAYS SO BLACK AND WHITE . . .
When vibrant but penniless Lexie is dumped by her posh boyfriend who is looking for a more financially suitable match, she decides to pack up her beloved orange campervan Penny in search of a new path. Stumbling upon a vacancy at a family-run paint company in the Cotswolds, Lexie believes she's found her perfect match . . .
Lexie arrives at Nutgrass Hall, home of Carrington Paints, but it seems that owner Benedict Carrington is less than impressed with her arrival, and Lexie realises she'll have her work cut out for her if she's to convince stuffy "Beige Ben" to trust her with rescuing his out-of-touch business. But Ben has more on his mind than just the company – his mother is determined to find him a suitable wife worthy of carrying the Carrington family name, or she'll take the business from him.
As Lexie sets to work on injecting some life colour into Carrington Paints, Ben allows himself to be set up with Tewkesbury's finest ladies. But the more time the pair spend together, the more they realise their feelings for each other aren't so black and white. Will Lexie be able to brighten into Ben's colourless world before it's too late?
There were so many things I loved about this novel and the first thing was Lexie. She's a fun, funny character with flaws aplenty – something that I adore, because who wants a perfect protagonist? She then lands herself in a muddle and ends up at Nutgrass Hall with grumpy, stand-offish Benedict Carrington. His mother is trying to set him up with the perfect wife but his mind is only on saving the business.
From this point on the plot (which is fantastically paced) keeps you turning the pages to find out what will happen next and I can pretty much guarantee you'll be surprised every step of the way.
Anita's writing is so voicey and warm that she's immediately up there with the greats of the genre: Jenny Colgan, Milly Johnson, Christie Barlow… I could go on. Suffice it to say, I'll be pre-ordering every one of her books as soon as someone flashes a link in front of me! A Colourful Country Escape is a top notch 5-star read and definitely not to be missed!
⭐️⭐️⭐️⭐️⭐️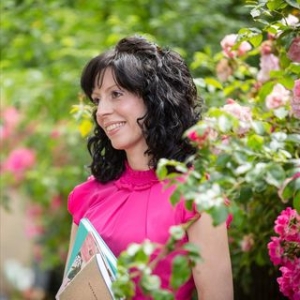 Make sure you follow Anita on her social media channels to stay up to date with A Colourful Country Escape and find out what's happening next!
Facebook: https://www.facebook.com/anita.faulkner.73
Twitter: https://twitter.com/anita_faulkner_
Instagram: https://www.instagram.com/anita_faulkner_writer/
Fancy a FREE short story? Sign up to my mailing list now and it'll be sent straight to your inbox! Plus you'll get my monthly newsletter full of behind the scenes gossip and exclusive news!