If you were sitting there wondering 'What the heck am I going to read this summer?' or possibly, 'It's raining again, best grab a book', then I've got ten brilliant reads you need to know about. These wonderful stories are guaranteed to keep you hooked through the next few months.
Don't forget to sign up to my mailing list and get your FREE short story!
1. India Holton, The Wisteria Society of Lady Scoundrels (out 15th June 2021)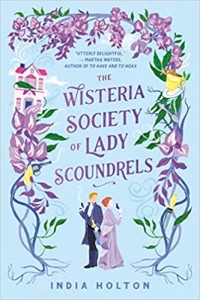 Cecilia Bassingwaite is the ideal Victorian lady. She's also a thief. Like the other members of the Wisteria Society crime sorority, she flies around England drinking tea, blackmailing friends, and acquiring treasure by interesting means. Sure, she has a dark and traumatic past and an overbearing aunt, but all things considered, it's a pleasant existence. Until the men show up.
Ned Lightbourne is a sometimes assassin who is smitten with Cecilia from the moment they meet. Unfortunately, that happens to be while he's under direct orders to kill her. His employer, Captain Morvath, who possesses a gothic abbey bristling with cannons and an unbridled hate for the world, intends to rid England of all its presumptuous women, starting with the Wisteria Society. Ned has plans of his own. But both men have made one grave mistake. Never underestimate a woman.
When Morvath imperils the Wisteria Society, Cecilia is forced to team up with her handsome would-be assassin to save the women who raised her–hopefully proving, once and for all, that she's as much of a scoundrel as the rest of them.
2. Phillipa Ashley, An Endless Cornish Summer (out 24th June 2021)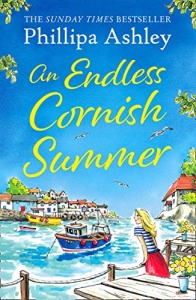 Rose Vernon is headed to a quiet Cornish village – to find the man who saved her life.
For Rose, every day is a gift. She narrowly survived a life-threatening illness and owes everything to her anonymous donor. Determined to thank him, Rose follows a trail of clues that lead her to the little Cornish fishing village of Falford.
But things become complicated when Rose is drawn into local life, becoming involved in the legendary Falford Regatta and meeting the handsome Morvah brothers – one of whom might just be the man she's looking for. But which one?
Can Rose find the answer she's searching for, or will she lose her heart before the summer is over?
3. Kathryn Freeman, The Beach Reads Book Club (out 30th June 2021)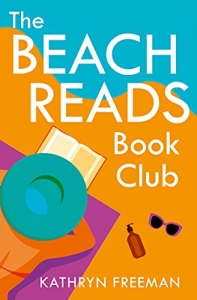 When Lottie Watt is unceremoniously booted out of her uptight book club for not following the rules, she decides to throw the rulebook out the window and start her own club – one where conversation, gin and cake take precedent over actually having read the book!
The Beach Reads Book Club soon finds a home for its meetings at Books by the Bay, a charming bookshop and café owned by gorgeous, brooding Matthew Steele, and as the book club picks heat up, so too does the attraction between Matt and Lottie.
If there's anything Lottie has learned from the romances she's been reading, it's that the greatest loves are the ones hardest earned.
4. Ian Moore, Death and Croissants (out 1st July 2021)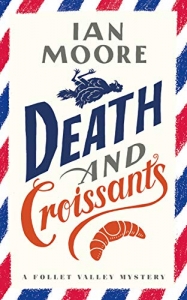 Richard is a middle-aged Englishman who runs a B&B in the fictional Val de Follet in the Loire Valley. Nothing ever happens to Richard, and really that's the way he likes it.
One day, however, one of his older guests disappears, leaving behind a bloody handprint on the wallpaper. Another guest, the exotic Valérie, persuades a reluctant Richard to join her in investigating the disappearance.
Richard remains a dazed passenger in the case until things become really serious and someone murders Ava Gardner, one of his beloved hens… and you don't mess with a fellow's hens!
5. Lucy Knott, The Little Barn of Hopes and Dreams (out 8th July 2021)
Quirky bookworm Florence Danver spends most of her time lost in whimsical daydreams about characters from her favourite books. Who wouldn't rather be fighting dragons or falling in love with impossibly perfect heroes than stuck behind a computer doing boring data entry all day? But when she loses her job, Flo knows it's time to make some changes.
Her beloved Nanna Margot encourages her to spend a week at Camp Calla Lily, but this is a place she hasn't been since she lost her mum and dad, and her return is bittersweet… until she meets Jo Hadlee.
Fellow dreamer Jo is a writer and soon the pair are inseparable as they talk books and build castles in the air. But what happens when the fantasy bubble bursts and real life comes roaring back in? The real world is a place of pain and loss where bosses frown upon her distracted air, where people tease her, and where nothing ever has a happy ending.
If Florence wants to turn her fairy-tale summer with perfectly imperfect Jo into a happily-ever-after of her own, she will have to accept that love, like life, is best when it's messy and very, very real.
6. Andie Newton, The Girls from the Beach (out 8th July 2021)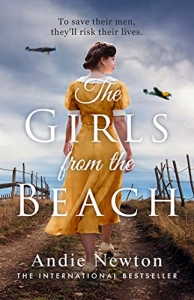 In 1944, four American nurses disappeared for five days. No one knew what happened to them. Until now.
When Kit and Red set foot on French soil during the Normandy landings, they know they have to rely on each other. As they head for the battlefield, their aim is simple: save lives. But when they're called away on a top-secret mission to patch up a few men behind enemy lines, everything changes.
Alongside fellow nurses, Roxy and Gail, they're told to prepare for the worst, trading in their nurses' fatigues for civilian clothes and hiding medical supplies under their skirts. But it's a lie. Their real mission tasks them with the impossible – to infiltrate the Reich and steal something the Nazis desperately need to win their losing war.
In an ultimate test of courage and comradeship, each woman must decide what she is prepared to risk and what she has to live for.
7. Jenny Oliver, One Lucky Summer (out 5th August 2021)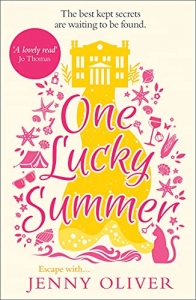 With an air of faded splendour, Willoughby Hall was an idyllic childhood home to Ruben de Lacy. Gazing at it now, decades later, the memories are flooding back, and not all of them are welcome…
In a tumbledown cottage in Willoughby's grounds, Dolly and Olive King lived with their eccentric explorer father. One of the last things he did was to lay a treasure hunt before he died, but when events took an unexpected turn, Dolly and Olive left Willoughby for good, never to complete it.
But when Ruben uncovers a secret message, hidden for decades, he knows he needs Olive and Dolly's help. Can the three of them solve the treasure hunt, and will piecing together the clues help them understand what happened to their families that summer, all those years ago?
8. Rebecca Raisin, Escape to Honeysuckle Hall (out 5th August 2021)
A fresh start brings a second chance at love…
When Orly's boyfriend and business partner dumps her for a celebrity fling, she finds solace in tacos, tequila and tears. One terrible hangover later, she's packed her bags and swapped her London apartment for the overgrown grounds of Honeysuckle Hall.
After years spent catering to others' whims, Orly is going after what she wants: a simpler life, surrounded by nature. Her plan to set up countryside retreats for burned-out city-dwellers means she soon has the social life she's been dreaming of – and gorgeous carpenter Leo is always around when she needs something fixed…
As Orly's new life blossoms, so does her friendship with Leo, and she wonders if she's finally found somewhere to put down roots – until she discovers a series of anonymous notes, warning her off. Was she wrong to trust Leo? Or is someone else trying to sabotage her future?
9. Sophia Money-Coutts, Did You Miss Me? (out 19th August 2021)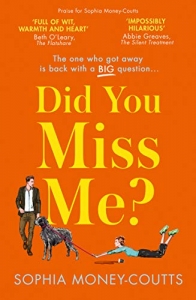 You never forget the one that got away, do you?
Nell Mason is extremely happy with her life – or at least, that's what she tells herself. She's lucky to have a high-powered job as a lawyer, even if it does come with an eccentric set of billionaire divorce clients. And she's absolutely fine living with her sweet, if slightly dull, boyfriend Gus in their London flat where they have very sensible sex once (OK, sometimes twice) a week. She's definitely not stuck in a rut.
But when Nell bumps into childhood friend and first love Arthur Drummond who broke her heart fifteen years ago, she's more than a little shaken. The seemingly perfect life she's worked so hard for starts to feel, well, less perfect. Maybe Nell's been kidding herself all these years. Can she ever get over her first love?
10. Miranda Dickinson, The Start of Something (out 2nd September 2021)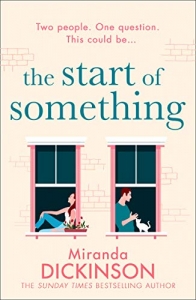 Two lonely people.
One note in the window.
And what happens when they reach out…
Lachlan Wallace is stuck at home after a car accident stalled his army career. With months of physiotherapy still to endure and only his rescue dog and cat for company, he's taken to gazing out of the window, watching the world spin on without him. And then he notices a vase of flowers on the windowsill of the apartment opposite his. Drawn to their hope and colour, he decides to reach out and sticks a message in his window…
Bethan Gwynne is a stranger in a new town. Bringing up her son Noah by herself, she is slowly rebuilding her life, but loneliness is one obstacle she has yet to overcome. She's intrigued by a glimpse of her neighbour in the apartment across from hers – and then, one evening, she sees a message in his window just for her:
WHAT ARE THOSE FLOWERS CALLED?
And so begins a love story of two people reaching out, daring to trust a stranger…
Don't these all look and sound absolutely amazing? If you choose one of these books, I'd love it if you let me know!
Happy reading everyone.
xxx
The Secrets of Meadow Farmhouse – my latest read is out now!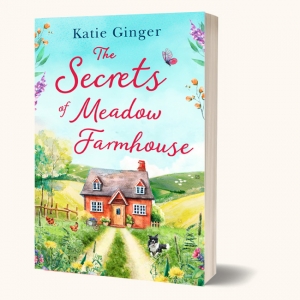 Amelia loves her life in Paris. But with the surprise inheritance of her childhood home, she has no choice but to return to the small village of Meadowbank to restore her great-aunt's old farmhouse. However, returning to Meadowbank means she has to confront her past, including old flame Adam, the one thing she regrets leaving behind.
When Amelia discovers a locket hidden in the farmhouse, containing the picture of a mysterious World War Two soldier, she starts to uncover the secrets of her great-aunt's past.
With Adam on hand to help restore the farmhouse, she's shocked by his generosity after so many years apart. As her feelings for her first love reignite, Amelia is suddenly confused as to where she truly belongs.
Can Amelia finally find where her heart truly calls home?
And don't forget to sign up to my mailing list for all the behind the scenes gossip, giveaways and exclusive news! Plus a FREE short story!